You may be new to First Presbyterian Church VR, or a long-time member, but if you are not part of a Community Small Group, you are missing out! These small groups meet in homes, at the church, and at various times to foster a vibrant community of friendships where you can: connect with others, discuss God's truth and work out how it applies, encourage and pray together, develop your gifts through serving, and invite non-believers to investigate real Christianity. Small Groups focus on developing stronger disciples through spending time in the Word, prayer, and fellowship. We hope you will embrace this crucial part of your spiritual journey.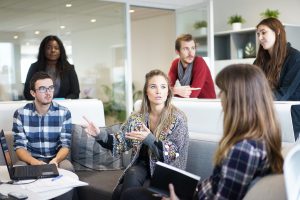 Small Groups, Various Days and Times:
Sunday, 4 to 5:30 PM: Fellowship group studying Colossians at Cliff and Debbie's house-click for directions.
Sunday, 5:30 to 7 PM: Study of the book, The Prodigal Son, by Tim Keller at Ron and Bonnie's home –click for directions. (Heavy hors d'oeuveres before the study begins!)
Sunday (alternates, check latest announcement), 12:30 to 2:30 PM: Youth Group in the church gym, led by Josh and Kelsey Whittle
Wednesday Morning, 10 AM: "Precepts" Bible Study sponsored by the WIC, at the church, led by Debby Morgan
Wednesday, 6:30 to 7:30 PM: Prayer, Praying, and Power at the church.
On the last Sunday Evening of each month, Community Small Groups meet as a larger congregation at the church at 6:30 pm for a time of fellowship around the Word of God, Songs, Hymns, and Spiritual Songs, (and sometimes light snacks afterward!).
Matthew 28:19 "Go therefore and make disciples of all nations, baptizing them in the name of the Father and of the son and of the Holy Spirit, teaching them to observe all that I have commanded you. And behold, I am with you always, to the end of the age."
These words of Jesus tell us that we are to be about making disciples of all people groups. That is all people of all backgrounds and all cultures. Community Small Groups are a safe place for everyone to find out more about Jesus.
We will help you find the group you want,  just send us a message from our Contact Page.  Click Here.