Teaching Elder, Reverend Tom Myers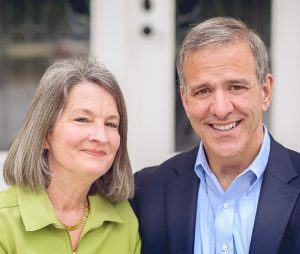 WHAT'S THEIR STORY
First, we are both sinners saved by the matchless grace of our Lord Jesus Christ! We are so thankful for the good news of the gospel and the hope we have in Him. We are also thankful for the place God has given us to serve,First Pres. Villa Rica. We love you all; we love this church and we love this community. By the grace of God, we were both raised in Christian families; Tom in the Maryland suburbs and Beth in Iran, Pennsylvania, and then moved to Maryland in high school. There we both had the amazing opportunity to be part of a loving, vibrant,spirit-filled church. Under the Christ-like leadership of our pastor, Beth's dad, our church, Wallace Presbyterian,experienced a powerful season of local revival in the late '70s. The spirit of Acts 2:42-47 was visible in our midst.This was an exciting time and really shaped our idea of what the church can look like!
We both graduated from Hope College in Holland, MI and it was at the Urbana Missionary Conference that I felt the inward call of the Holy Spirit to pursue the ministry. We were married, and we moved from Maryland to Reformed Seminary in Jackson, MS. Since then, I have served in various churches as a youth pastor, associatepastor, and senior pastor. We are thankful for our four daughters, four sons-in-law, and 13 grandchildren! (One in heaven and one coming at the end of March).
Here's the breakdown – Katie and Seth – Harrisburg, PA where Katie's a nurse and Seth is an elementary schoolteacher. They have Maddy, 13, Livi, 12, Ella, 10, and Lucy, 7.
Janet and Keri – Washington, NJ where Janet is a home-school mom and Keri is a chiropractor. They haveMichael, 6, Kelsey, 5, and Quinn 6 months.
Emily and David – Indianapolis, IN where Em corrals her 3 little boys and Dave is a doctor. They have Noah, 5,Joshua, 2, and Max, 9 months.
Meg and Brian are our neighbors over in Chamblee, GA. Meg is a dental hygienist and Brian is in IT at Georgia State. They have Lila 20 months and a baby brother coming in March.
Hope you memorized that because there will be a quiz!
Beth has enjoyed working for Great Commission Publications for the past 6 years as a curriculum specialist. Sheis thankful for this position that really brings together her life experiences to serve the wider church body.
For me, besides preaching and speaking to others daily about the Lord, one of the most satisfying parts of my ministry has been discipling young men and training them in the things of Christ. My goal is to labor for the Lord with a desire to see Him send revival in the church. I want to see men and women, boys and girls coming to a saving faith in Christ. I want to see revival prayer in the church. I want to see the families strengthened, and the members equipped to love the Lord Jesus Christ more, to love their family more, to love their fellow church members more, to press on in new obedience, and to have an unceasing passion to win their non-Christian friends and family to Christ.
We are thankful that as the Psalmist says, "He has set our feet in pleasant places," here with you at First Pres. We look forward to 2021 and what God has in store for us as we serve Him together.