Teaching Elder, Reverend Tom Myers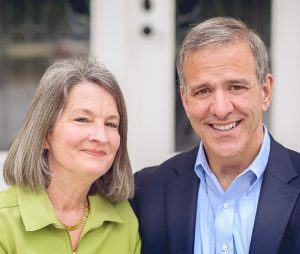 By the grace of God, we both had the privilege of being raised in Godly families and grew up in a loving, vibrant, spirit-filled church in the Maryland suburbs of Washington, D.C. It was at the Urbana Missionary Conference that I felt the inward call of the Holy Spirit to pursue the Gospel ministry. Beth and I were married in 1980. Shortly thereafter, we moved from Maryland to Jackson, MS so I could attend Reformed Theological Seminary. God has given us the opportunity to serve at several churches in Pennsylvania and around the Southeast. We are very thankful to be serving here in Douglasville, Georgia with the folks at First Presbyterian Church of Villa Rica!
We are the parents of four daughters, and now grandparents to nine grandchildren! They are our pride and joy. I have a sense of humor that I struggle to restrain at times. I love to sing and I enjoy sports—mostly working out at the gym at this point in my life. Beth enjoys opening our home for Bible studies and other ministerial opportunities, and, of course, loving on our grand-kids! She works as a Curriculum Specialist with Great Commission Publications.
My goal is to labor for the Lord with a desire to see Him send revival in the church. I want to see men and women, boys and girls, coming to a saving faith in Jesus Christ. I want to see revival prayer in the church. I want to see families strengthened and church members equipped to love the Lord more, to love their families more, and to love their fellow church members more. I want the body of Christ, collectively, to press on in new obedience and to have an unceasing passion to win their non-Christian friends and neighbors to the Lord, developing within them what I refer to as a "CPH"—a Chronically Pained Heart for the lost, Rom. 9:1-3.