Ruling Elder Gary Brittain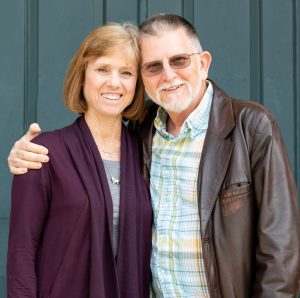 Gary and Melanie were married in 1982 and were discipled by Navigators Chuck Singletary and Harold Huff during the early years of their marriage.  "It was their leadership that planted in us the vision of spiritual multiplication."  As Gary's job moved them through four different cities before moving back to Gary's home-place in Douglasville, Georgia; they were involved in small group disciple making ministries in several churches, and in two new church plants.  Their life together has been invested in the Bride of Christ in some cases through building leadership teams and in others through joining with and serving existing leadership teams. They had the privilege of teaching and encouraging the friends they did not deserve –but God gave anyway along the way; of reaching people through neighborhood and work place evangelism; and of leading small group ministries as they sought to be positive spiritual change agents for the glory of Christ and His Church.
Both being from a Southern Baptist background, Gary and Melanie saw the clarity and God-honoring, biblical consistency of the Reformed Faith and joined Grace Church, PCA while living in Charlotte, NC. They now seek to serve Christ through the closest reformed PCA church to their home, First Presbyterian Church, Villa Rica, Georgia.  Gary's spheres of influence in the church include Evangelism (the first step of Discipleship) and Missions (the execution of the Great Commission).
Melanie ministers to over 2000 online social followers of her Loveline Golden Retriever dog breeding and her Your Dog Knows dog training business by continually pointing out biblical lessons and encouragements as God gives her situational, biblical illustrations to post online. She takes her service dogs into juvenile court, schools, hospitals, nursing homes, training classes, and on search and rescue or cadaver searches as she seeks to serve people and the community in the Name of Christ.
Gary is retired from the Federal Aviation Administration and has since worked for WCG (Washington Consulting Group) of Bethesda, MD including a three year deployment to Iraq during the war and a one year deployment to Djibouti, Africa.  For several years, Gary worked for WCG on an as needed basis from home, manages a few websites, and did light website development as he maintained a small farm north of Winston, GA. Gary is now in "inactive" status as an Elder as he serves WCG full time as the Middle East Programs Manager.
The family includes a daughter who is married to a local PCA pastor (in another church), a son who is in the Navy, and a married daughter who lives in Nashville, TN.  Gary and Melanie have six wonderful grandchildren, all girls.
2 Timothy 2: 1-2 "You then, my child (in the faith), be strengthened by the grace that is in Christ Jesus, and what you have heard from me in the presence of many witnesses entrust to faithful men, who will be able to teach others also."
Ephesians 1:6 "to the praise of his glorious grace, which he as blessed us in the Beloved."