First Presbyterian Church of Villa Rica, GA WIC
Women in the Church (WIC), formerly known and still often referred to as the Women's Circle or just Circle, is a fellowship of women in the Presbyterian Church of America.  The main purpose of the WIC is to provide nurturing fellowship, growth and support to women in the church.  In our church, WIC is open to all women including young teens and upward to our most senior women in the Church.
Activities of First Presbyterian Church, VR WIC
Recognizing High School or College Graduates – WIC serves a special cake, usually during a Fellowship lunch, and presents a book for the graduate,
First baby & Wedding Showers
General Meetings – food, fun, and fellowship, discussions to mobilize the women in the church for particular needs.  Currently meets 4 times per year
Chaplain-Devotionals for meetings
Decorating – for Christmas and other special events throughout the year
Support the Pastor, Elders, Deacons, & Church committees
Welcome outreach for new members and regular attendees
Birthday cards to women in the church.
Helping Hands – providing organizing of meals and assistance to church families dealing with the loss of a loved one or to an expectant mother who may be confined to bed rest or other extended illness or need situations. This would evolve from receiving a call for a need,  then arrangements would be coordinated for Meals to be provided.
Hospitality- set and clean up for Fellowship luncheons or special meal event
Annual Love Gift benefiting various PCA ministries
WIC Upcoming Events
There is still time to sign up if you would like to provide a meal for the Browns.  This is helpful for the family, as they adjust to having a new baby. 

CLICK HERE

for available dates.
Baby Bottle donations for the Pregnancy Resource Center in Douglasville for the month of May.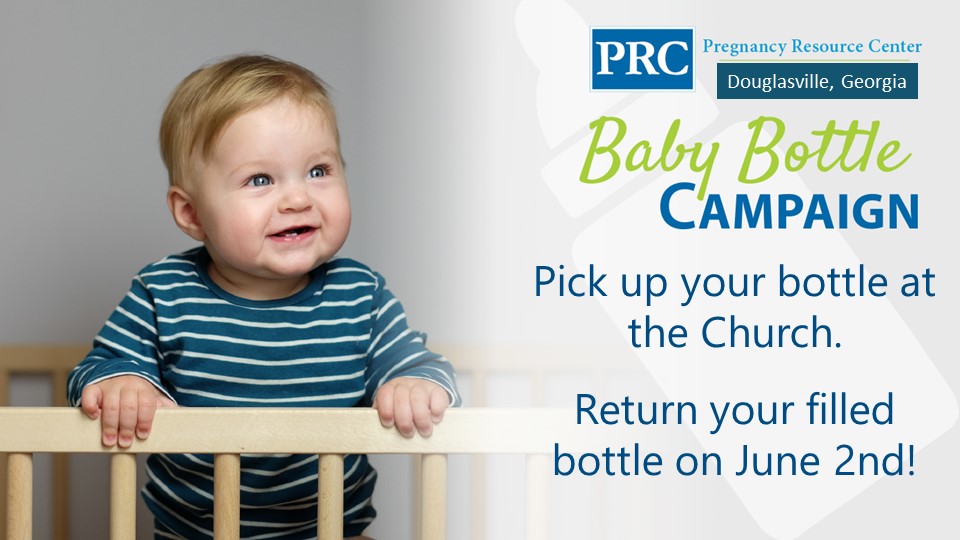 The WIC will be hosting a Baby Shower Luncheon for Keeleigh Coleman on Sunday June 9th from 12:30-2:30 following Church worship, in the Fellowship building. Keeleigh is registered at Amazon, Target, and Walmart. All ladies are welcome to attend. Lunch will be provided by the ladies.  Please RSVP to Donna Lisenby (see below) if you plan to attend or would like to help with providing food for the shower.  Hope to see you there!
Next WIC quarterly meeting: Sunday July 28th following Worship
Contact Donna Lisenby for details about any WIC event or issue. Just visit the Contact Page, put "WIC" as your heading, and send her a message. Donna will get back to you as soon as possible.