First Presbyterian Church of Villa Rica
SUNDAY, July 26th, 2020
At Church and Online
9am Outside service, 10:45am Live Stream and Church Worship Service
GATHERING OF GOD'S PEOPLE
"Gather the people to me, that I may let them hear my words, so that they may learn to fear me all the days that they live on the earth, and that they may teach their children so." – Deuteronomy 4:10
PRELUDE
(As we prepare our hearts for worship let us quiet our hearts and our cell phones.)
Sermon:

Man's Nature and God's Righteous Judgement
Bulletin/Order of Worship
WELCOME & ANNOUNCEMENTS
CALL TO WORSHIP
INVOCATION

(All Scripture references are from the English Standard Version, ESV, unless otherwise noted.)
Worship through Hymn of Thanksgiving
#2 Oh Worship the King

1 O worship the King all-glorious above,
O gratefully sing his power and his love:
our shield and defender, the Ancient of Days,
pavilioned in splendor and girded with praise.
2 O tell of his might and sing of his grace,
whose robe is the light, whose canopy space.
His chariots of wrath the deep thunderclouds form,
and dark is his path on the wings of the storm.
3 Your bountiful care, what tongue can recite?
It breathes in the air, it shines in the light;
it streams from the hills, it descends to the plain,
and sweetly distills in the dew and the rain.
4 Frail children of dust, and feeble as frail,
in you do we trust, nor find you to fail.
Your mercies, how tender, how firm to the end,
our Maker, Defender, Redeemer, and Friend!
5 O measureless Might, unchangeable Love,
whom angels delight to worship above!
Your ransomed creation, with glory ablaze,
in true adoration shall sing to your praise!
Worship Through Psalter Reading
Ascribe to the Lord, you heavenly beings, ascribe to the Lord glory and strength.
Ascribe to the Lord the glory due his name; worship the Lord in the splendor of his holiness.
The voice of the Lord is over the waters; the God of glory thunders, the Lord thunders over the mighty waters
The voice of the Lord is powerful; the voice of the Lord is majestic.
The voice of the Lord breaks the cedars; the Lord breaks in pieces the cedars of Lebanon.
He makes Lebanon leap like a calf, Sirion like a young wild ox.
The voice of the Lord strikes with flashes of lightning.
The voice of the Lord shakes the desert; the Lord shakes the Desert of Kadesh.
The voice of the Lord twists the oaks and strips the forests bare.
And in his temple all cry, "Glory!"
The Lord sits enthroned over the flood; the Lord is enthroned as King forever.
The Lord gives strength to his people; the Lord blesses his people with peace.
Worship Through Scripture Songs of Preparation:
Come and Rejoice

Verse 1
Come with rejoicing the Father is calling
Those who would worship in spirit and truth
Come with your singing come with thanksgiving
Jesus our Savior has made all things new
Chorus
Come and rejoice O holy nation
Come and sing praises to Him
Come and bow down worship before Him
Jesus the King of all kings
Jesus the King of all kings
Verse 2
The Lord of creation is full of compassion
Seated in splendor adorned with all grace
Majestic and glorious reigning victorious
Now and forever enthroned on our praise
(Chorus)
Verse 3
With the sound of the trumpet He summons the nations
Calling a priesthood to go in His name
To show forth His power to this generation
To worship before Him a kingdom of praise
(Chorus)

Ancient of Days

Verse
Blessing and honor, glory and power
Be unto the Ancient of Days
From every nation, all of creation
Bow before the Ancient of Days
Chorus
Every tongue in heaven and earth shall
declare Your glory
Every knee shall bow at Your throne in
worship
You will be exalted, oh God
And Your kingdom shall not pass away
O Ancient of Days
(Repeat)
Bridge
Your kingdom shall reign over all the earth
Sing unto the Ancient of Days
For none can compare to Your matchless
worth
Sing unto the Ancient of Days
(Chorus 2x)
Ending
O Ancient of Days
O Ancient of Days
Worship through Exposition of God's Word: Pastor Tom Myers
Study of Romans

Sermon: Man's Nature and God's Righteous Judgement
Genesis 9:5-6
5 And for your lifeblood I will require a reckoning: from every beast I will require it and from man. From his fellow man I will require a reckoning for the life of man. 6 "Whoever sheds the blood of man, by man shall his blood be shed, for God made man in his own image.
Romans 1:16 – 2:11
16 For I am not ashamed of the gospel, for it is the power of God for salvation to everyone who believes, to the Jew first and also to the Greek. 17 For in it the righteousness of God is revealed from faith for faith, as it is written, "The righteous shall live by faith."
God's Wrath on Unrighteousness
18 For the wrath of God is revealed from heaven against all ungodliness and unrighteousness of men, who by their unrighteousness suppress the truth. 19 For what can be known about God is plain to them, because God has shown it to them. 20 For his invisible attributes, namely, his eternal power and divine nature, have been clearly perceived, ever since the creation of the world, in the things that have been made. So they are without excuse. 21 For although they knew God, they did not honor him as God or give thanks to him, but they became futile in their thinking, and their foolish hearts were darkened. 22 Claiming to be wise, they became fools, 23 and exchanged the glory of the immortal God for images resembling mortal man and birds and animals and creeping things.
24 Therefore God gave them up in the lusts of their hearts to impurity, to the dishonoring of their bodies among themselves, 25 because they exchanged the truth about God for a lie and worshiped and served the creature rather than the Creator, who is blessed forever! Amen.
26 For this reason God gave them up to dishonorable passions. For their women exchanged natural relations for those that are contrary to nature; 27 and the men likewise gave up natural relations with women and were consumed with passion for one another, men committing shameless acts with men and receiving in themselves the due penalty for their error.
28 And since they did not see fit to acknowledge God, God gave them up to a debased mind to do what ought not to be done. 29 They were filled with all manner of unrighteousness, evil, covetousness, malice. They are full of envy, murder, strife, deceit, maliciousness. They are gossips, 30 slanderers, haters of God, insolent, haughty, boastful, inventors of evil, disobedient to parents, 31 foolish, faithless, heartless, ruthless. 32 Though they know God's righteous decree that those who practice such things deserve to die, they not only do them but give approval to those who practice them.
God's Righteous Judgment
​1 Therefore you have no excuse, O man, every one of you who judges. For in passing judgment on another you condemn yourself, because you, the judge, practice the very same things. 2 We know that the judgment of God rightly falls on those who practice such things. 3 Do you suppose, O man—you who judge those who practice such things and yet do them yourself—that you will escape the judgment of God? 4 Or do you presume on the riches of his kindness and forbearance and patience, not knowing that God's kindness is meant to lead you to repentance? 5 But because of your hard and impenitent heart you are storing up wrath for yourself on the day of wrath when God's righteous judgment will be revealed.
6 He will render to each one according to his works: 7 to those who by patience in well-doing seek for glory and honor and immortality, he will give eternal life; 8 but for those who are self-seeking and do not obey the truth, but obey unrighteousness, there will be wrath and fury. 9 There will be tribulation and distress for every human being who does evil, the Jew first and also the Greek, 10 but glory and honor and peace for everyone who does good, the Jew first and also the Greek. 11 For God shows no partiality.
Worship through Hymn of Commitment:

Onward Christian Soldiers #572

1 Onward, Christian soldiers, marching as to war,
With the cross of Jesus going on before!
Christ, the royal Master, leads against the foe;
Forward into battle, see his banner go!
Refrain:
Onward, Christian soldiers, marching as to war,
With the cross of Jesus going on before!
2 At the sign of triumph Satan's host doth flee;
On, then, Christian soldiers, on to victory!
Hell's foundations quiver at the shout of praise;
Brothers, lift your voices, loud your anthems raise!
[Refrain]
3 Like a mighty army moves the church of God;
Brothers, we are treading where the saints have trod;
We are not divided; all one body we,
One in hope and doctrine, one in charity.
[Refrain]
4 Onward, then, ye people, join our happy throng,
Blend with ours your voices in the triumph song;
Glory, laud, and honor, unto Christ the King;
This thro' countless ages men and angels sing.
[Refrain]
Benediction

(Please Stand as Able)
Doxology: Hymn #731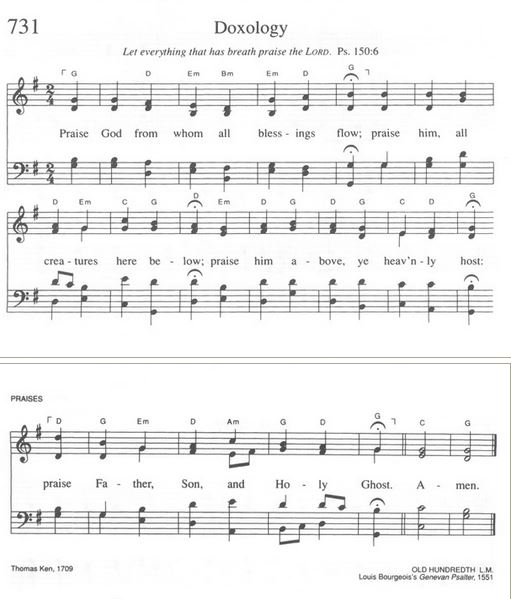 Postlude


(Please Stand As Able)



Continue to pray and encourage one another.1 Thessalonians 5:11
Therefore encourage one another and build one another up, just as you are doing.
Other Resources
Kingdom Outreach:  See our Missions and Outreach Page
 What is Happening this Week?  Visit our This Week page.

Today's Additional Resources
A Required Reckoning
"Whoever sheds the blood of man, by man shall his blood be shed, for God made man in his own image" ( Gen. 9:6 ) – Genesis 9:5–7
In 2005, the United States Supreme Court outlawed capital punishment for minors. The subsequent praise and criticism of the decision illustrates how contentious this issue remains across the globe.
As we continue to examine the Noahic covenant, we come today to the laws regarding murder and justice. Genesis 9:5–6 orders persons who murder other human beings to be executed.
We first note that many believe Exodus 20:13 forbids capital sentencing because some English translations have rendered this verse with the word "kill." But the ESV rightly recognizes the force of the Hebrew when it uses the term "murder" for the sixth commandment. Therefore, the Decalogue (Ten Commandments) does not deny the mandate for capital punishment given to Noah.
Today, the civil magistrate, Christian or not, retains the obligation to enforce the death penalty because, like the covenant with Adam, the covenant with Noah is made with all men. However, there are biblical safeguards to prevent the abuse of this punishment. A capital sentence is demanded only for premeditated, or first-degree murder. Numbers 35:31 tells us a ransom can never be given for the life of a murderer, indicating the death sentence is not mandatory in other cases where capital punishment is prescribed (for example, Lev. 20:10–16 ). Judges are to take the circumstances of the crime into account, and so not all killers receive a capital sentence ( Num. 35:9–29 ). The accused must not be convicted without due process (v. 30). Moreover, execution
is possible only when guilt is proven, and false witnesses cannot be tolerated ( Deut. 19:15–21 ). Finally, the state alone can enforce a capital sentence ( Rom. 13:1–7 ; see 12:19). The basis for this requirement is the image of God ( Gen. 9:6 ). Man retains this image even after the fall and the flood, and those who so flagrantly hate the Lord that they destroy His image forfeit their own lives. Matthew Henry comments, "Such remains of God's image are still even on fallen man as that he who unjustly kills a man defaces the image of God and does dishonor to
him." May we therefore always be quick to stand for the just application of our Father's law.
Coram Deo
John Calvin writes in his commentary on today's passage: "No one can be injurious to his brother without wounding God himself." As we have seen already, how we treat others reveals what we really think of the Lord ( James 3:5b–10 ). Furthermore, while physical murder is most heinous, we have already violated God's law if we have cursed another ( Matt. 5:21–22 ). Think of a person of whom you have wished ill. Repent of this attitude and seek to bless that individual.
Passages for Further Study
Deuteronomy 5:17
"'You shall not murder.'"
Deuteronomy 21:1-9 ​
1 "If in the land that the Lord your God is giving you to possess someone is found slain, lying in the open country, and it is not known who killed him, 2 then your elders and your judges shall come out, and they shall measure the distance to the surrounding cities. 3 And the elders of the city that is nearest to the slain man shall take a heifer that has never been worked and that has not pulled in a yoke. 4 And the elders of that city shall bring the heifer down to a valley with running water, which is neither plowed nor sown, and shall break the heifer's neck there in the valley. 5 Then the priests, the sons of Levi, shall come forward, for the Lord your God has chosen them to minister to him and to bless in the name of the Lord, and by their word every dispute and every assault shall be settled. 6 And all the elders of that city nearest to the slain man shall wash their hands over the heifer whose neck was broken in the valley, 7 and they shall testify, 'Our hands did not shed this blood, nor did our eyes see it shed. 8 Accept atonement, O Lord, for your people Israel, whom you have redeemed, and do not set the guilt of innocent blood in the midst of your people Israel, so that their blood guilt be atoned for.' 9 So you shall purge the guilt of innocent blood from your midst, when you do what is right in the sight of the Lord.
1 Kings 21 ​
1 Now Naboth the Jezreelite had a vineyard in Jezreel, beside the palace of Ahab king of Samaria. 2 And after this Ahab said to Naboth, "Give me your vineyard, that I may have it for a vegetable garden, because it is near my house, and I will give you a better vineyard for it; or, if it seems good to you, I will give you its value in money." 3 But Naboth said to Ahab, "The Lord forbid that I should give you the inheritance of my fathers." 4 And Ahab went into his house vexed and sullen because of what Naboth the Jezreelite had said to him, for he had said, "I will not give you the inheritance of my fathers." And he lay down on his bed and turned away his face and would eat no food.
5 But Jezebel his wife came to him and said to him, "Why is your spirit so vexed that you eat no food?" 6 And he said to her, "Because I spoke to Naboth the Jezreelite and said to him, 'Give me your vineyard for money, or else, if it please you, I will give you another vineyard for it.' And he answered, 'I will not give you my vineyard.'" 7 And Jezebel his wife said to him, "Do you now govern Israel? Arise and eat bread and let your heart be cheerful; I will give you the vineyard of Naboth the Jezreelite."
8 So she wrote letters in Ahab's name and sealed them with his seal, and she sent the letters to the elders and the leaders who lived with Naboth in his city. 9 And she wrote in the letters, "Proclaim a fast, and set Naboth at the head of the people. 10 And set two worthless men opposite him, and let them bring a charge against him, saying, You have cursed God and the king.' Then take him out and stone him to death." 11 And the men of his city, the elders and the leaders who lived in his city, did as Jezebel had sent word to them. As it was written in the letters that she had sent to them, 12 they proclaimed a fast and set Naboth at the head of the people. 13 And the two worthless men came in and sat opposite him. And the worthless men brought a charge against Naboth in the presence of the people, saying, "Naboth cursed God and the king." So they took him outside the city and stoned him to death with stones. 14 Then they sent to Jezebel, saying, "Naboth has been stoned; he is dead."
15 As soon as Jezebel heard that Naboth had been stoned and was dead, Jezebel said to Ahab, "Arise, take possession of the vineyard of Naboth the Jezreelite, which he refused to give you for money, for Naboth is not alive, but dead." 16 And as soon as Ahab heard that Naboth was dead, Ahab arose to go down to the vineyard of Naboth the Jezreelite, to take possession of it.
The Lord Condemns Ahab
17 Then the word of the Lord came to Elijah the Tishbite, saying, 18 "Arise, go down to meet Ahab king of Israel, who is in Samaria; behold, he is in the vineyard of Naboth, where he has gone to take possession. 19 And you shall say to him, 'Thus says the Lord, "Have you killed and also taken possession?"' And you shall say to him, 'Thus says the Lord: "In the place where dogs licked up the blood of Naboth shall dogs lick your own blood."'"
20 Ahab said to Elijah, "Have you found me, O my enemy?" He answered, "I have found you, because you have sold yourself to do what is evil in the sight of the Lord. 21 Behold, I will bring disaster upon you. I will utterly burn you up, and will cut off from Ahab every male, bond or free, in Israel. 22 And I will make your house like the house of Jeroboam the son of Nebat, and like the house of Baasha the son of Ahijah, for the anger to which you have provoked me, and because you have made Israel to sin. 23 And of Jezebel the Lord also said, The dogs shall eat Jezebel within the walls of Jezreel.' 24 Anyone belonging to Ahab who dies in the city the dogs shall eat, and anyone of his who dies in the open country the birds of the heavens shall eat."
Ahab's Repentance
25 (There was none who sold himself to do what was evil in the sight of the Lord like Ahab, whom Jezebel his wife incited. 26 He acted very abominably in going after idols, as the Amorites had done, whom the Lord cast out before the people of Israel.)
27 And when Ahab heard those words, he tore his clothes and put sackcloth on his flesh and fasted and lay in sackcloth and went about dejectedly. 28 And the word of the Lord came to Elijah the Tishbite, saying, 29 "Have you seen how Ahab has humbled himself before me? Because he has humbled himself before me, I will not bring the disaster in his days; but in his son's days I will bring the disaster upon his house."
Hos. 4:1–3
Hosea 4:1-11
Hear the word of the Lord, O children of Israel,
for the Lord has a controversy with the inhabitants of the land.
There is no faithfulness or steadfast love,
and no knowledge of God in the land;
2 there is swearing, lying, murder, stealing, and committing adultery;
they break all bounds, and bloodshed follows bloodshed.
3 Therefore the land mourns,
and all who dwell in it languish,
and also the beasts of the field
and the birds of the heavens,
and even the fish of the sea are taken away.
James 4:1-10
1 What causes quarrels and what causes fights among you? Is it not this, that your passions are at war within you? 2 You desire and do not have, so you murder. You covet and cannot obtain, so you fight and quarrel. You do not have, because you do not ask. 3 You ask and do not receive, because you ask wrongly, to spend it on your passions. 4 You adulterous people! Do you not know that friendship with the world is enmity with God? Therefore whoever wishes to be a friend of the world makes himself an enemy of God. 5 Or do you suppose it is to no purpose that the Scripture says, "He yearns jealously over the spirit that he has made to dwell in us"? 6 But he gives more grace. Therefore it says, "God opposes the proud but gives grace to the humble." 7 Submit yourselves therefore to God. Resist the devil, and he will flee from you. 8 Draw near to God, and he will draw near to you. Cleanse your hands, you sinners, and purify your hearts, you double-minded. 9 Be wretched and mourn and weep. Let your laughter be turned to mourning and your joy to gloom. 10 Humble yourselves before the Lord, and he will exalt you.