First Presbyterian Church of Villa Rica
SUNDAY, July 19th, 2020
At Church and Online
9am Outside service, 10:45am Live Stream and Church Worship Service
GATHERING OF GOD'S PEOPLE
"Gather the people to me, that I may let them hear my words, so that they may learn to fear me all the days that they live on the earth, and that they may teach their children so." – Deuteronomy 4:10
PRELUDE
(As we prepare our hearts for worship let us quiet our hearts and our cell phones.)
Sermon:

The Christian's Dual Citizenship III
INTERNET TROUBLE AT THE CHURCH DID NOT ALLOW THE LIVE STREAM TODAY, NOR A RECORDING. HERE IS A SUBSTITUTE SERMON BY DR. VODDIE BAUCHAM
Bulletin/Order of Worship
WELCOME & ANNOUNCEMENTS
CALL TO WORSHIP
INVOCATION

(All Scripture references are from the English Standard Version, ESV, unless otherwise noted.)
Worship through Hymn of Thanksgiving
#38 Immortal, Invisible God Only Wise

Verse 1
Immortal, invisible, God only wise,
in light inaccessible hid from our eyes,
most blessed, most glorious, the Ancient of Days,
almighty, victorious, thy great name we praise.
Verse 2
Unresting, unhasting and silent as light,
nor wanting, nor wasting, thou rulest in might;
thy justice like mountains high soaring above
thy clouds which are fountains of goodness and love.
Verse 3
Great Father of glory, pure Father of light,
thine angels adore thee, all veiling their sight;
all praise we would render; O help us to see
'tis only the splendor of light hideth thee!
Worship Through Confession of Faith Reading
Q&A1 Q. What is your only comfort in life and in death?
A. That I am not my own, but belong—body and soul, in life and in death—to my faithful Savior, Jesus Christ.
He has fully paid for all my sins with his precious blood, and has set me free from the tyranny of the devil. He also watches over me in such a way that not a hair can fall from my head without the will of my Father in heaven; in fact, all things must work together for my salvation. Because I belong to him, Christ, by his Holy Spirit, assures me of eternal life and makes me wholeheartedly willing and ready from now on to live for him.
Q&A2 Q. What must you know to live and die in the joy of this comfort?
A. Three things: first, how great my sin and misery are; second, how I am set free from all my sins and misery; third, how I am to thank God for such deliverance.
Worship Through Scripture Songs of Preparation:
All Creation Worships You
Verse 1
You are God
And we praise You
You are great
We acclaim you
You are eternal Father
You are Lord we acclaim You
All creation worships You
All creation worships You Amen
Verse 2
You are Son
And we praise You
You are King
And we honor you
You are the Lamb of Glory
All creation worships You
All creation worships You Amen
Verse 3
You are life
And we praise You
You are Lord
We worship You
You are the Holy Spirit
All creation worships You
All creation worships You
Amen
Heaven and Earth

Verse
I hear sounds of many waters
Angels singing to the Father
Multitudes of angels bowing
All around the throne
I hear all creation praising
I see all the nations raising
Holy hearts and hands
In worship to the risen Lamb
Chorus
Heaven and earth
Are giving You glory
Singing with one voice
Lord You are holy
Earth touches sky
Lord hear the cry
Of heaven and earth
You are Lord
Of heaven and earth
(Repeat)
(Chorus)
Worship through Exposition of God's Word: Pastor Tom Myers
Study of Romans

Sermon: The Christian's Dual Citizenship III
Genesis 9:5-6
5 And for your lifeblood I will require a reckoning: from every beast I will require it and from man. From his fellow man I will require a reckoning for the life of man. 6 "Whoever sheds the blood of man, by man shall his blood be shed, for God made man in his own image.
Romans 13:1-7
Submission to the Authorities
​1 Let every person be subject to the governing authorities. For there is no authority except from God, and those that exist have been instituted by God. 2 Therefore whoever resists the authorities resists what God has appointed, and those who resist will incur judgment. 3 For rulers are not a terror to good conduct, but to bad. Would you have no fear of the one who is in authority? Then do what is good, and you will receive his approval, 4 for he is God's servant for your good. But if you do wrong, be afraid, for he does not bear the sword in vain. For he is the servant of God, an avenger who carries out God's wrath on the wrongdoer. 5 Therefore one must be in subjection, not only to avoid God's wrath but also for the sake of conscience. 6 For because of this you also pay taxes, for the authorities are ministers of God, attending to this very thing. 7 Pay to all what is owed to them: taxes to whom taxes are owed, revenue to whom revenue is owed, respect to whom respect is owed, honor to whom honor is owed.
1 Peter 2:11-17
11 Beloved, I urge you as sojourners and exiles to abstain from the passions of the flesh, which wage war against your soul. 12 Keep your conduct among the Gentiles honorable, so that when they speak against you as evildoers, they may see your good deeds and glorify God on the day of visitation.

Submission to Authority
13 Be subject for the Lord's sake to every human institution, whether it be to the emperor as supreme, 14 or to governors as sent by him to punish those who do evil and to praise those who do good. 15 For this is the will of God, that by doing good you should put to silence the ignorance of foolish people. 16 Live as people who are free, not using your freedom as a cover-up for evil, but living as servants of God. 17 Honor everyone. Love the brotherhood. Fear God. Honor the emperor.
Worship through Hymn of Commitment:

Redeemed, How I Love to Proclaim It! #701

Verse 1
Redeemed, how I love to proclaim it!
Redeemed by the blood of the Lamb;
redeemed thro' his infinite mercy,
his child and forever I am.
Chorus
Redeemed, redeemed,
redeemed by the blood of the Lamb;
Redeemed thro' his infinite mercy,
his child and forever I am.
Verse 2
Redeemed, and so happy in Jesus,
no language my rapture can tell;
I know that the light of his presence
with me doth continually dwell.
(Chorus)
Verse 3
I think of my blessed Redeemer,
I think of him all the day long;
I sing, for I cannot be silent;
his love is the theme of my song.
(Chorus)
Benediction

(Please Stand as Able)
Doxology: Hymn #731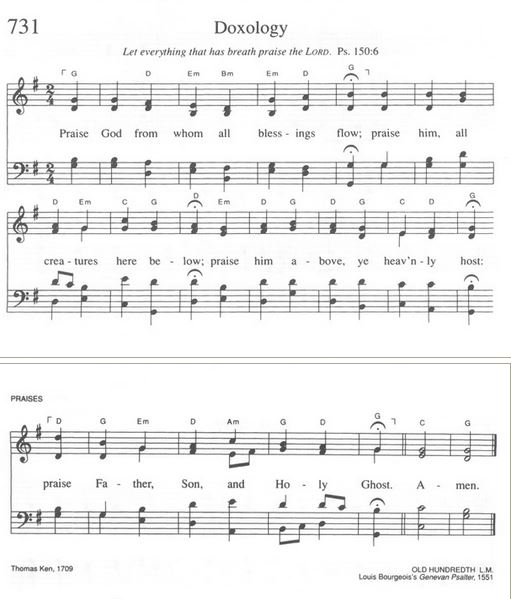 Postlude


(Please Stand As Able)



Continue to pray and encourage one another.1 Thessalonians 5:11
Therefore encourage one another and build one another up, just as you are doing.
Other Resources
Kingdom Outreach:  See our Missions and Outreach Page
 What is Happening this Week?  Visit our This Week page.

Today's Additional Resource
Westminster Confession of Faith in Modern English
Chapter 23
Civil Authorities
1. God, the supreme Lord and King of the whole world, has ordained civil authorities to be over people under him for his own glory and the public good. For this purpose he has armed civil authorities with the power of the sword to defend and encourage those who are good and to punish wrongdoers.
2. It is lawful for Christians to accept and execute offices of civil authority when that is their calling. In the
administration of such offices they should take care to support true religion, justice, and peace, according to the beneficial laws of each government, and in so doing they may lawfully under the New Testament wage war on just and necessary occasions.
3. Civil authorities may not take on themselves the ministering of God's word and the sacraments, the
administration of spiritual power, or any interference with matters of faith. Nevertheless it is the duty of civil authorities to protect the church of our Lord, without giving preference to any denomination of Christians, so that every person with church affiliations or duties will be able to function with complete and unquestioned freedom.  Since Jesus Christ has directed the establishment of regular government and discipline in his church, no law of any civil government should interfere with, abridge, or hinder the proper exercise of church government among the voluntary members of Christian denominations, acting in accordance with their own professed beliefs. It is the duty of civil authorities to protect the person and good name of everyone so that none are abused, injured, or insulted on account of religious faith or lack of it. It is also their duty to see to it that all religious and ecclesiastical assemblies are held without disturbance.
4. It is people's duty to pray for those in authority, to honor them, to pay them taxes and whatever is owed them, to
obey their lawful commands, and to be subject to them for conscience's sake. Unbelief or different religious views
on the part of civil authorities does not mean that they are to be disobeyed by believers, including clergymen, in
the legitimate pursuit of their duties. The Pope, of course, has no power or jurisdiction over civil authorities or the
people under them in secular affairs. The Pope never has any right to usurp secular authority, particularly capital
punishment in cases of what is judged to be heresy or any other fault.