First Presbyterian Church of Villa Rica
SUNDAY, July 12th, 2020
At Church and Online
9am Outside abbreviated service, 10:45am Live Stream and Church Worship Service
GATHERING OF GOD'S PEOPLE
"Gather the people to me, that I may let them hear my words, so that they may learn to fear me all the days that they live on the earth, and that they may teach their children so." – Deuteronomy 4:10
PRELUDE
(As we prepare our hearts for worship let us quiet our hearts and our cell phones.)
Sermon:

The Christian's Dual Citizenship II
Bulletin/Order of Worship
WELCOME & ANNOUNCEMENTS
CALL TO WORSHIP
INVOCATION

(All Scripture references are from the English Standard Version, ESV, unless otherwise noted.)
Worship through Hymn of Thanksgiving
#115 All Creatures of Our God and King

Verse 1
All creatures of our God and King
Lift up your voice and with us sing
Alleluia alleluia
Thou burning sun with golden beam
Thou silver moon with softer gleam
O praise Him O praise Him
Alleluia alleluia alleluia
Verse 3
Thou flowing water pure and clear
Make music for thy Lord to hear
Alleluia alleluia
Thou fire so masterful and bright
That givest man both warm and light
O praise him O praise him
Alleluia alleluia alleluia
Verse 5
Let all things their Creator bless
And worship Him in humbleness
O praise Him alleluia
Praise praise the Father praise the Son
And praise the Spirit three in One
O praise Him O praise Him
Alleluia alleluia alleluia
Worship Through Scripture/Psalter Reading
Psalms 11 (page 787)
1 In the Lord I take refuge.
How then can you say to me:
"Flee like a bird to your mountain.
2 For look, the wicked bend their bows;
they set their arrows against the strings
to shoot from the shadows
at the upright in heart.
3 When the foundations are being destroyed,
what can the righteous do?"
4 The Lord is in his holy temple;
the Lord is on his heavenly throne.
He observes everyone on earth;
his eyes examine them.
5 The Lord examines the righteous,
but the wicked, those who love violence,
he hates with a passion.
6 On the wicked he will rain
fiery coals and burning sulfur;
a scorching wind will be their lot.
7 For the Lord is righteous,
he loves justice;
the upright will see his face.
Psalms 13
1 How long, Lord? Will you forget me forever?
How long will you hide your face from me?
2 How long must I wrestle with my thoughts
and day after day have sorrow in my heart?
How long will my enemy triumph over me?
3 Look on me and answer, Lord my God.
Give light to my eyes, or I will sleep in death,
4 and my enemy will say, "I have overcome him,"
and my foes will rejoice when I fall.
5 But I trust in your unfailing love;
my heart rejoices in your salvation.
6 I will sing the Lord's praise,
for he has been good to me.
Worship Through Scripture Songs of Preparation:
God of Wonders

Verse 1
Lord of all creation
Of water earth and sky
The heavens are Your tabernacle
Glory to the Lord on high
Chorus 1
God of wonders beyond our galaxy
You are holy holy
The universe declares Your majesty
You are holy holy
Lord of heaven and earth
Lord of heaven and earth
Verse 2
Early in the morning
I will celebrate the light
When I stumble in the darkness
I will call Your name by night
(Chorus 1)
Bridge
( Girls) Hallelujah (Guys) To the Lord of heaven and earth
( Girls) Hallelujah (Guys) To the Lord of heaven and earth
( Girls) Hallelujah (Guys) To the Lord of heaven and earth
Chorus 2
God of wonders beyond our galaxy
You are holy holy
Precious Lord reveal Your heart to me
You are holy holy
The universe declares Your majesty
You are holy holy
(Bridge)
Holy is the Lord

Verse
We stand and lift up our hands
For the joy of the Lord is our strength
We bow down and worship Him now
How great how awesome is He
Pre-Chorus
And together we sing
(Ev'ryone sing – 2 nd time)
Chorus 1
Holy is the Lord God Almighty
The earth is filled with His glory
Holy is the Lord God Almighty
The earth is filled with His glory
The earth is filled with His glory
(Repeat)
Bridge (2x)
It is rising up all around
It's the anthem of the Lord's renown
Pre-Chorus
And together we sing
Chorus 2
Holy is the Lord God Almighty
The earth is filled with His glory
Holy is the Lord God Almighty
The earth is filled with His glory
The earth is filled with His glory
The earth is filled with His glory
Ending (3x)
Holy holy is the Lord Almighty
Holy holy
Worship through Exposition of God's Word: Pastor Tom Myers
Study of Romans

Sermon: The Christian's Dual Citizenship II
1st Peter 5:7
…casting all your anxieties on him, because he cares for you.
Titus 3:1-2
Be Ready for Every Good Work
​1 Remind them to be submissive to rulers and authorities, to be obedient, to be ready for every good work, 2 to speak evil of no one, to avoid quarreling, to be gentle, and to show perfect courtesy toward all people.
Romans 13:1-7
Submission to the Authorities
​1 Let every person be subject to the governing authorities. For there is no authority except from God, and those that exist have been instituted by God. 2 Therefore whoever resists the authorities resists what God has appointed, and those who resist will incur judgment. 3 For rulers are not a terror to good conduct, but to bad. Would you have no fear of the one who is in authority? Then do what is good, and you will receive his approval, 4 for he is God's servant for your good. But if you do wrong, be afraid, for he does not bear the sword in vain. For he is the servant of God, an avenger who carries out God's wrath on the wrongdoer. 5 Therefore one must be in subjection, not only to avoid God's wrath but also for the sake of conscience. 6 For because of this you also pay taxes, for the authorities are ministers of God, attending to this very thing. 7 Pay to all what is owed to them: taxes to whom taxes are owed, revenue to whom revenue is owed, respect to whom respect is owed, honor to whom honor is owed.
1 Peter 2:11-17
11 Beloved, I urge you as sojourners and exiles to abstain from the passions of the flesh, which wage war against your soul. 12 Keep your conduct among the Gentiles honorable, so that when they speak against you as evildoers, they may see your good deeds and glorify God on the day of visitation.

Submission to Authority
13 Be subject for the Lord's sake to every human institution, whether it be to the emperor as supreme, 14 or to governors as sent by him to punish those who do evil and to praise those who do good. 15 For this is the will of God, that by doing good you should put to silence the ignorance of foolish people. 16 Live as people who are free, not using your freedom as a cover-up for evil, but living as servants of God. 17 Honor everyone. Love the brotherhood. Fear God. Honor the emperor.
Ephesians 5:18-33
18 And do not get drunk with wine, for that is debauchery, but be filled with the Spirit, 19 addressing one another in psalms and hymns and spiritual songs, singing and making melody to the Lord with your heart, 20 giving thanks always and for everything to God the Father in the name of our Lord Jesus Christ, 21 submitting to one another out of reverence for Christ.
Wives and Husbands
    22 Wives, submit to your own husbands, as to the Lord. 23 For the husband is the head of the wife even as Christ is the head of the church, his body, and is himself its Savior. 24 Now as the church submits to Christ, so also wives should submit in everything to their husbands.
   25 Husbands, love your wives, as Christ loved the church and gave himself up for her, 26 that he might sanctify her, having cleansed her by the washing of water with the word, 27 so that he might present the church to himself in splendor, without spot or wrinkle or any such thing, that she might be holy and without blemish. 28 In the same way husbands should love their wives as their own bodies. He who loves his wife loves himself. 29 For no one ever hated his own flesh, but nourishes and cherishes it, just as Christ does the church, 30 because we are members of his body. 31 "Therefore a man shall leave his father and mother and hold fast to his wife, and the two shall become one flesh." 32 This mystery is profound, and I am saying that it refers to Christ and the church. 33 However, let each one of you love his wife as himself, and let the wife see that she respects her husband.
Acts 4:18-20
18 So they called them and charged them not to speak or teach at all in the name of Jesus. 19 But Peter and John answered them, "Whether it is right in the sight of God to listen to you rather than to God, you must judge, 20 for we cannot but speak of what we have seen and heard."
Acts 5:28&29
28 saying, "We strictly charged you not to teach in this name, yet here you have filled Jerusalem with your teaching, and you intend to bring this man's blood upon us." 29 But Peter and the apostles answered, "We must obey God rather than men…."
Worship through Hymn of Commitment:
'Tis So Sweet to Trust in Jesus (#679)

Verse 1
'Tis so sweet to trust in Jesus,
just to take him at his word;
just to rest upon his promise;
just to know, "Thus saith the Lord."
Chorus
Jesus, Jesus, how I trust him!
How I've proved him o'er and o'er!
Jesus, Jesus, precious Jesus!
O for grace to trust him more!
Verse 2
O how sweet to trust in Jesus,
just to trust his cleansing blood;
just in simple faith to plunge me
'neath the healing, cleansing flood!
(Chorus)
Verse 3
Yes, 'tis sweet to trust in Jesus,
just from sin and self to cease;
just from Jesus simply taking
life and rest, and joy and peace.
(Chorus)
Verse 4
I'm so glad I learned to trust thee,
precious Jesus, Savior, Friend;
and I know that thou art with me,
wilt be with me to the end.
(Chorus)
Benediction

(Please Stand as Able)
Doxology: Hymn #731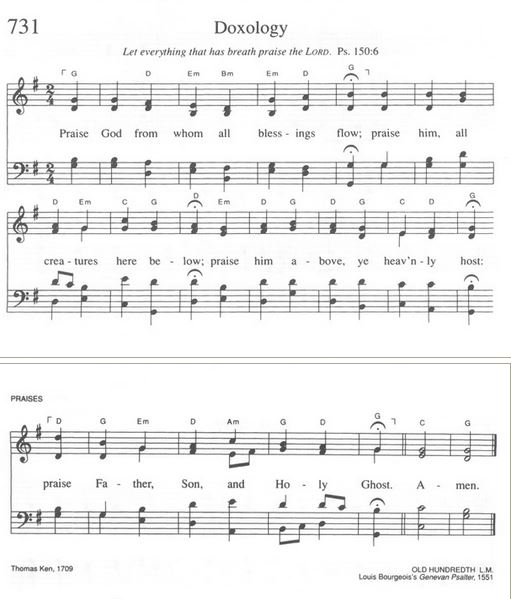 Postlude


(Please Stand As Able)



Continue to pray and encourage one another.1 Thessalonians 5:11
Therefore encourage one another and build one another up, just as you are doing.
Other Resources
Kingdom Outreach:  See our Missions and Outreach Page
 What is Happening this Week?  Visit our This Week page.