First Presbyterian Church of Villa Rica
SUNDAY, May 31, 2020
At Church and Online
GATHERING OF GOD'S PEOPLE
"Gather the people to me, that I may let them hear my words, so that they may learn to fear me all the days that they live on the earth, and that they may teach their children so." – Deuteronomy 4:10
PRELUDE
(As we prepare our hearts for worship let us quiet our hearts and our cell phones-unless you are using it to read this.)
Sermon: Gospel Proud

(Start Video)
Bulletin/Order of Worship
WELCOME & ANNOUNCEMENTS
CALL TO WORSHIP INVOCATION

(All Scripture references are from the English Standard Version, ESV, unless otherwise noted.)
Worship through Hymn #520

Worship Through Confessional Reading

Westminster Confession of Faith
Chapter 10
Of Effectual Calling
At the right time, appointed by him, God effectually calls all those and only those whom he has predestined to life. He calls them by his word and Spirit out of their natural state of sin and death into grace and salvation through Jesus Christ. He enlightens their minds spiritually with a saving understanding of the things of God. He takes away their heart of stone and gives them a heart of flesh. He renews their wills and by his almighty power leads them to what is good. And so he effectually draws them to Jesus Christ. But they come to Jesus voluntarily, having been made willing by God's grace.
This effectual call is freely made by God and is entirely an act of his special grace. It does not depend on anything God foreknew or foresaw about the person called, who is completely passive. God himself gives life and renewal by the Holy Spirit. He thereby enables each person to answer his call and to accept the grace he offers and actually gives.
Chapter 11 
Of Justification 
Those whom God effectually calls he also freely justifies. He does not pour righteousness into them but pardons their sins and looks on them and accepts them as if they were righteous—not because of anything worked in them or done by them, but for Christ's sake alone. He does not consider their faith itself, the act of believing, as their righteousness or any other obedient response to the gospel on their part. Rather, he imputes to them the obedience and judicial satisfaction earned by Christ. For their part, they receive and rest on Christ and his righteousness by faith (and this faith is not their own but is itself a gift of God).
Faith, thus receiving and resting on Christ and his righteousness, is the only means of justification. In the person justified, however, it is always accompanied by all the other saving graces and is not a dead faith, but works by love.
By his obedience and death Christ completely discharged the debt of all those who are so justified, and he made the correct, real, and full satisfaction to his Father's justice on their behalf. Since Christ was voluntarily given by the Father for them, and since his obedience and satisfaction were accepted in their place and not for anything in them, their justification is the result only of his free grace—so that both the perfect justice and the rich grace of God might be glorified in the justification of sinners.
Chapter 14 
Of Saving Faith 
The gift of faith makes it possible for the souls of the elect to be saved by believing in Jesus Christ. This gift is the work of the Spirit of Christ in the hearts of the elect and is ordinarily accomplished by the ministry of the word. It is also increased and strengthened by the word, by prayer, and by the administration of the sacraments
By this faith a Christian believes whatever is revealed in the word to be the true, authentic, authoritative statement of God himself. By this faith the believer also acts according to what particular passages in the word say. By faith the believer humbly submits to and obeys God's various commands. He trembles at God's awesome threats, and eagerly embraces his promises about this life and the life to come. But the chief actions of saving faith are accepting, receiving, and resting on Christ alone for justification, sanctification, and eternal life, in the power of the covenant of grace.
Chapter 15 
Of Repentance Leading to Life 
Repentance which leads to life is the blessed product of the gospel working in believers' lives. Along with the doctrine of faith in Christ, it is a doctrine to be preached by every minister of the gospel.
In this repentance the sinner is able to see his sins as God sees them, as filthy and hateful, and as involving great danger to the sinner, because they are completely contrary to the holy nature and righteous law of God. Understanding that God in Christ is merciful to those who repent, the sinner suffers deep sorrow for and hates his sins, and so he determines to turn away from all of them. And turning to God, he tries to walk with him according to all his commandments.
Worship through Scripture Song:


Knowing You



Verse 1
All I once held dear, built my life upon
All this world reveres, and wars to own.
All I once thought gain, I have counted loss
Spent and worthless now, compared to this…
Chorus
Knowing You, Jesus, knowing You
There is no greater thing
You're my all, You're the best
You're my joy, my righteousness,
And I love You, Lord.
Verse 2
Now my heart's desire is to know You more
To be found in You, and known as Yours
To possess by faith, what I could not earn
All surpassing gift of righteousness…
Chorus
Knowing You, Jesus, knowing You
There is no greater thing
You're my all, You're the best
You're my joy, my righteousness,
And I love You, Lord.
Verse 3
Oh to know the pow'r of Your risen life
And to know You in Your sufferings
To become like You, in Your death, my Lord
So with You to live and never die…
Chorus
Knowing You, Jesus, knowing You
There is no greater thing
You're my all, You're the best
You're my joy, my righteousness,
And I love You, Lord.
Knowing You, Jesus, knowing You
There is no greater thing
You're my all, You're the best
You're my joy, my righteousness,
And I love You, Lord.
And I love you, Lord
And I love you, Lord 
Worship through Scripture Song of Preparation:


Amazing Grace (My Chains are Gone)



Verse 1
Amazing grace how sweet the sound
That saved a wretch like me
I once was lost but now I'm found
Was blind but now I see
Verse 2
'Twas grace that taught my heart to fear
And grace my fears relieved
How precious did that grace appear
The hour I first believed
Chorus
My chains are gone I've been set free
My God my Savior has ransomed me
And like a flood His mercy rains
Unending love amazing grace 
Verse 3
The Lord has promised good to me
His word my hope secures
He will my shield and portion be
As long as life endures
Chorus
My chains are gone I've been set free
My God my Savior has ransomed me
And like a flood His mercy rains
Unending love amazing grace 
My chains are gone I've been set free
My God my Savior has ransomed me
And like a flood His mercy rains
Unending love amazing grace 
Verse 4
The earth shall soon dissolve like snow
The sun forbear to shine
But God who called me here below
Will be forever mine
Will be forever mine
You are forever mine
Worship through Exposition of God's Word: Pastor Tom Myers
Study of Romans

Gospel Proud
Romans 1:13-17
13 I do not want you to be unaware, brothers, that I have often intended to come to you (but thus far have been prevented), in order that I may reap some harvest among you as well as among the rest of the Gentiles. 14 I am under obligation both to Greeks and to barbarians, both to the wise and to the foolish. 15 So I am eager to preach the gospel to you also who are in Rome.
16 For I am not ashamed of the gospel, for it is the power of God for salvation to everyone who believes, to the Jew first and also to the Greek. 17 For in it the righteousness of God is revealed from faith for faith, as it is written, "The righteous shall live by faith."
2 Corinthians 5:17

Therefore, if anyone is in Christ, he is a new creation. The old has passed away; behold, the new has come.
Acts 26:9-18
9 "I myself was convinced that I ought to do many things in opposing the name of Jesus of Nazareth. 10 And I did so in Jerusalem. I not only locked up many of the saints in prison after receiving authority from the chief priests, but when they were put to death I cast my vote against them. 11 And I punished them often in all the synagogues and tried to make them blaspheme, and in raging fury against them I persecuted them even to foreign cities.
12 "In this connection I journeyed to Damascus with the authority and commission of the chief priests. Acts 26:13-18 13 At midday, O king, I saw on the way a light from heaven, brighter than the sun, that shone around me and those who journeyed with me. 14 And when we had all fallen to the ground, I heard a voice saying to me in the Hebrew language, 'Saul, Saul, why are you persecuting me? It is hard for you to kick against the goads.' 15 And I said, 'Who are you, Lord?' And the Lord said, 'I am Jesus whom you are persecuting. 16 But rise and stand upon your feet, for I have appeared to you for this purpose, to appoint you as a servant and witness to the things in which you have seen me and to those in which I will appear to you, 17 delivering you from your people and from the Gentiles—to whom I am sending you 18 to open their eyes, so that they may turn from darkness to light and from the power of Satan to God, that they may receive forgiveness of sins and a place among those who are sanctified by faith in me.'
Acts 9:10-31
10 Now there was a disciple at Damascus named Ananias. The Lord said to him in a vision, "Ananias." And he said, "Here I am, Lord." 11 And the Lord said to him, "Rise and go to the street called Straight, and at the house of Judas look for a man of Tarsus named Saul, for behold, he is praying, 12 and he has seen in a vision a man named Ananias come in and lay his hands on him so that he might regain his sight." 13 But Ananias answered, "Lord, I have heard from many about this man, how much evil he has done to your saints at Jerusalem. 14 And here he has authority from the chief priests to bind all who call on your name." 15 But the Lord said to him, "Go, for he is a chosen instrument of mine to carry my name before the Gentiles and kings and the children of Israel. 16 For I will show him how much he must suffer for the sake of my name." 17 So Ananias departed and entered the house. And laying his hands on him he said, "Brother Saul, the Lord Jesus who appeared to you on the road by which you came has sent me so that you may regain your sight and be filled with the Holy Spirit." 18 And immediately something like scales fell from his eyes, and he regained his sight. Then he rose and was baptized; 19 and taking food, he was strengthened. For some days he was with the disciples at Damascus.
20 And immediately he proclaimed Jesus in the synagogues, saying, "He is the Son of God." 21 And all who heard him were amazed and said, "Is not this the man who made havoc in Jerusalem of those who called upon this name? And has he not come here for this purpose, to bring them bound before the chief priests?" 22 But Saul increased all the more in strength, and confounded the Jews who lived in Damascus by proving that Jesus was the Christ.
23 When many days had passed, the Jews plotted to kill him, 24 but their plot became known to Saul. They were watching the gates day and night in order to kill him, 25 but his disciples took him by night and let him down through an opening in the wall, lowering him in a basket.
26 And when he had come to Jerusalem, he attempted to join the disciples. And they were all afraid of him, for they did not believe that he was a disciple. 27 But Barnabas took him and brought him to the apostles and declared to them how on the road he had seen the Lord, who spoke to him, and how at Damascus he had preached boldly in the name of Jesus. 28 So he went in and out among them at Jerusalem, preaching boldly in the name of the Lord. 29 And he spoke and disputed against the Hellenists. But they were seeking to kill him. 30 And when the brothers learned this, they brought him down to Caesarea and sent him off to Tarsus.
31 So the church throughout all Judea and Galilee and Samaria had peace and was being built up. And walking in the fear of the Lord and in the comfort of the Holy Spirit, it multiplied.
Worship through Hymn of Commitment
#32 Great is Thy Faithfulness

Benediction
Doxology: Hymn #731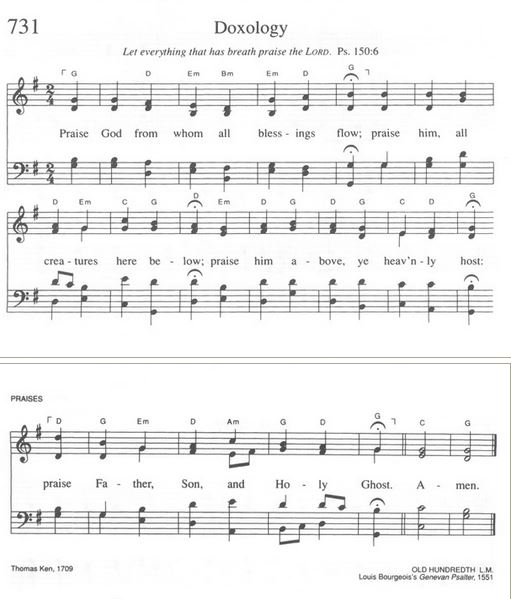 Postlude
In Loving Memory of Ravi Zacharias