First Presbyterian Church of Villa Rica
Order for the Worship of God
SUNDAY, January 31st, 2021
At Church and Online


(Live Stream and Online Bulletin)



All Sunday morning services suspended until further notice due to COVID, except 11 AM Service
8:30 AM Worship Services (In Sanctuary and Fellowship Hall (Masks Required); and via Live Stream Online)
9:30 AM Gathering Grounds (In Fellowship Hall —coffee, donuts)
10 AM Sunday School for all ages
11 AM Worship Services (In Sanctuary, Fellowship Hall, and via Live Stream Online)

GATHERING OF GOD'S PEOPLE
"Gather the people to me, that I may let them hear my words, so that they may learn to fear me all the days that they live on the earth, and that they may teach their children so." – Deuteronomy 4:10
PRELUDE
(As we prepare our hearts for worship let us quiet our hearts and our cell phones.)
Online Bulletin
Sermon:
"
The Christian Life:
Sola Fide!… From Beginning to End"
Bulletin/Order of Worship
WELCOME & ANNOUNCEMENTS
CALL TO WORSHIP
INVOCATION

(All Scripture references are from the English Standard Version, ESV, unless otherwise noted.)
Worship through Hymn of Thanksgiving
#235.

All Glory, Laud and Honor
Verse 1
All glory, laud, and honor
to thee, Redeemer, King,
to whom the lips of children
made sweet hosannas ring.
Thou art the King of Israel
thou David's royal Son,
who in the Lord's name comest,
the King and Blessed One.
Verse 2
The people of the Hebrews
with palms before thee went;
our praise and prayer and anthems
before thee we present;
to thee before thy passion
they sang their hymns of praise;
to thee, now high exalted,
our melody we raise.
Verse 3
Thou didst accept their praises;
Accept the prayers we bring.
Who in all good delightest,
Thou good and gracious King!
All glory, laud and honor
To thee, Redeemer, King.
To whom the lips of children
Made sweet hosannas ring!

Worship Through Songs of Praise:
Oh God of Mine

Verse 1
O, God of mine, I'll have no idols
O, God of mine, come lead the way
O, God of mine, I'm greatly humbled
This sinner's heart You came to save
Verse 2
O, God of mine, through storm and trial
O, God of mine, through death and grave
O, God of mine, in resurrection
Your scars display my soul's refrain
Verse 3
O, God of mine who holds all nations
O, God of mine who saves the day
O, God of mine, Your grace sufficient
Your tender mercies new by morn
Verse 4
O, God of mine, forever faithful
O, God of mine, forever stay
O, God of mine, forever after
These eyes upon Your face will gaze
These eyes upon Your face will gaze
Verse 5
O, God of mine, I'll have no idols
O, God of mine, come lead the way
O, God of mine, I'm greatly humbled
This sinner's heart You came to save
This sinner's heart You came to save
This sinner's heart You came to save
Open The Eyes Of My Heart

Chorus (2x)
Open the eyes of my heart Lord
Open the eyes of my heart
I want to see You
I want to see You
Verse
To see You high and lifted up
Shining in the light of Your glory
Pour out Your power and love
As we sing holy holy holy
Chorus (2x)
Verse
To see You high and lifted up
Shining in the light of Your glory
Pour out Your power and love
As we sing holy holy holy
Bridge (2x)
Holy holy holy
Holy holy holy
Holy holy holy
I want to see You
Children's Church Suspended due to COVID

Pastoral Prayer
Worship through Exposition of God's Word: Rev. Thomas Myers

Sermon: "The Christian Life:
Sola Fide!… From Beginning to End"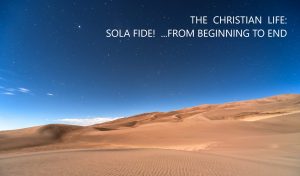 Hebrews 11(Select Passages)

By Faith
1 Now faith is the assurance of things hoped for, the conviction of things not seen. 2 For by it the people of old received their commendation.
8 By faith Abraham obeyed when he was called to go out to a place that he was to receive as an inheritance. And he went out, not knowing where he was going. 9 By faith he went to live in the land of promise, as in a foreign land, living in tents with Isaac and Jacob, heirs with him of the same promise. 10 For he was looking forward to the city that has foundations, whose designer and builder is God. 11 By faith Sarah herself received power to conceive, even when she was past the age, since she considered him faithful who had promised. 12 Therefore from one man, and him as good as dead, were born descendants as many as the stars of heaven and as many as the innumerable grains of sand by the seashore.
17 By faith Abraham, when he was tested, offered up Isaac, and he who had received the promises was in the act of offering up his only son, 18 of whom it was said, "Through Isaac shall your offspring be named." 19 He considered that God was able even to raise him from the dead, from which, figuratively speaking, he did receive him back.
Romans 4: 13-25 – The Promise Realized Through Faith
13 For the promise to Abraham and his offspring that he would be heir of the world did not come through the law but through the righteousness of faith. 14 For if it is the adherents of the law who are to be the heirs, faith is null and the promise is void. 15 For the law brings wrath, but where there is no law there is no transgression.
16 That is why it depends on faith, in order that the promise may rest on grace and be guaranteed to all his offspring—not only to the adherent of the law but also to the one who shares the faith of Abraham, who is the father of us all, 17 as it is written, "I have made you the father of many nations"—in the presence of the God in whom he believed, who gives life to the dead and calls into existence the things that do not exist. 18 In hope he believed against hope, that he should become the father of many nations, as he had been told, "So shall your offspring be." 19 He did not weaken in faith when he considered his own body, which was as good as dead (since he was about a hundred years old), or when he considered the barrenness[a] of Sarah's womb. 20 No unbelief made him waver concerning the promise of God, but he grew strong in his faith as he gave glory to God, 21 fully convinced that God was able to do what he had promised. 22 That is why his faith was "counted to him as righteousness." 23 But the words "it was counted to him" were not written for his sake alone, 24 but for ours also. It will be counted to us who believe in him who raised from the dead Jesus our Lord, 25 who was delivered up for our trespasses and raised for our justification.
Worship through Hymn of Commitment:

Romans 6:19  I am speaking in human terms, because of your natural limitations. For just as you once presented your members as slaves to impurity and to lawlessness leading to more lawlessness, so now present your members as slaves to righteousness leading to sanctification.
523. My Hope Is in the Lord
Verse 1
My hope is in the Lord
Who gave Himself for me
And paid the price
Of all my sin at Calvary
Chorus
For me He died
For me He lives
And everlasting life and light
He freely gives
Verse 2
No merit of my own
His anger to suppress
My only hope is found
In Jesus' righteousness.
(Chorus)
Verse 3
And now for me He stands
Before the Father's throne
He shows His wounded hands
And names me as His own
(Chorus)
Verse 4
His grace has planned it all
'Tis mine but to believe
And recognize His work
Of love and Christ receive
(Chorus)
Benediction

Doxology: Hymn #731
Praise God from whom all blessings flow;
Praise him, all creatures here below;
Praise him above, ye heav'ly host;
Praise Father, Son, and Holy Ghost. Amen.
THIS WEEK AND UPCOMING EVENTS
---
GATHERING GROUNDS

(Cancelled UFA)




Please join us in the fellowship hall Sunday mornings from 9:30-10:00 am for coffee and donuts.
SMALL GROUPS TODAY:

Whittle/Dickinson Group will meet Sunday at 5 PM via Zoom. Email churchoffice@firstpresbyterianvr.org for the link.
Mitchell/Forlaw Group cancelled this week.
HYMN SINGING / CAROLING AFTER CHURCH

Join us after the 11:00 am service to sing hymns to Bonnie Millians (9916 Stockmar Road) and Loretta Linville (702 Magnolia Street).
Postlude


(Please Stand As Able)



Continue to pray and encourage one another.1 Thessalonians 5:11
Therefore encourage one another and build one another up, just as you are doing.
Leadership Meeting, Tuesday Evening via Zoom. 
Please pray for our leadership team.
HOUSE OF PRAYER FOR ALL NATIONS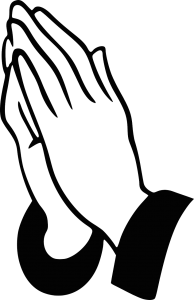 Meeting online through zoom on Wednesdays at 7 pm.
Be on the lookout for the email with the link.
WOMEN'S BIBLE STUDY
Wednesdays at 10am, PRECEPT BIBLE STUDY
A 16 week Precept Bible study on the book of Acts
will begin Wednesday Feb 3 at 10 am.
Anyone interested may call Debby Morgan at
678-463-7368 for details on how to order a study book.
COMMUNION REMINDER
Prepare your hearts to receive the Lord's Sacraments next Sunday, February 7th.
Other Resources
Kingdom Outreach:  See our Missions and Outreach Page
 What is Happening this Week, this Month?  Visit our This Week page.

A YEAR IN TABLETALK
You are invited to join us in reading through Tabletalk devotions for the year of 2021. January's edition will be available by the offering box in the Sanctuary. You
can purchase a subscription by calling 1-800-435-4343 or by visiting the Table Talk website. You can also begin a free subscription through the website.
---
Today's Additional Resources
Q. 93. What is the moral law?
A. The moral law is the declaration of God's will for humanity, directing and binding every human being to conform to
and obey it personally, completely, and perpetually. The moral law applies to the whole human, body and soul, and
includes the performance of all those obligations to God and our fellow humans to be holy and righteous. God promised
life for keeping it and threatened death for disobeying it.
Q. 94. Does the moral law apply to human beings after the fall?
A. Although after the fall no one can achieve righteousness and life by means of the moral law, it still applies to all
humans generally, whether saved or unsaved.
Q. 95. How does the moral law apply to all human beings?
A. The moral law reveals the holy nature and will of God to all humans and obliges them to live by it. It also reveals to
them the sinful pollution of their nature, hearts, and lives, which shows them they are unable to keep it. The moral law
also humbles human beings with the recognition of their sinfulness and misery and thereby gives them a better awareness
of their need for Christ and for the perfection of his obedience.
Q. 96. How does the moral law apply particularly to the unsaved?
A. The moral law awakens the consciences of the unsaved to flee from the coming wrath and so drives them to Christ.
But, if they continue in their unsaved and sinful condition, the law has left them without excuse and under its curse.
Q. 97. How does the moral law apply specifically to the saved?
A. Although those who are saved and believe in Christ are freed from the moral law as a covenant of works, so that they
are neither justified nor condemned by it, nonetheless, in addition to the general applicability of the moral law to all
humans, it specifically shows believers how much they owe to Christ for fulfilling it and for enduring its curse in their
place and for their good. This recognition spurs believers on to a greater thankfulness, so that they try all the harder to
observe the law as their personal standard for living.
Q. 98. Where is the moral law summarized?
A. The moral law is summarized in the ten commandments, which were delivered by the voice of God on Mount Sinai
and written down by him on two stone tablets; they are recorded in Exodus 20. The first four commandments establish our
obligations to God and the remaining six our obligations to human beings.
Q. 134. What is the sixth commandment?
A. The sixth commandment is: You shall not murder.
Q. 135. What does the sixth commandment require?
A. The sixth commandment requires us to do our best to make every lawful effort to preserve our own life and the lives of
others. We do this by not thinking about or planning, by controlling our emotions, and by avoiding all opportunities,
temptations, or actions that would promote or lead to the unjust taking of someone's life. In the pursuit of that goal, we
must defend others from violence, patiently endure the afflictions from God's hand, have a quiet mind and a cheerful
spirit, practice temperance in the way we eat, drink, take medications, sleep, work, and play. We should also harbor
charitable thoughts, love, compassion, meekness, gentleness, and kindness. Our speech and behavior should be peaceful,
mild, and courteous. We should be tolerant of others, be ready to be reconciled, patiently put up with and forgive injuries
against us, and return good for evil. Finally, we should provide aid and comfort to those in distress as well as protect and
defend the innocent.
Q. 136. What particular sins does the sixth commandment forbid?
A. The sixth commandment forbids: taking our own or anyone else's life, except in the pursuit of public justice, lawful
war, or necessary defense; neglecting or withholding the necessary means for the preservation of life; sinful anger, hatred,
envy, or desire for revenge; all excessive emotions and distracting anxieties; intemperate eating, drinking, working, or
playing; speaking in a provocative way, oppressing, quarreling with, hitting, or wounding others, and anything else
conducive to the destruction of anyone's life.
---
Special Announcement
Dear Believers of First Pres. Villa Rica,
After almost six months of suspending in-person Sunday morning activities with the exception of Worship, we are excited to announce the resumption of both infant and toddler nurseries beginning September 20th (both services), and the resumption of all Sunday morning activities beginning October 4th. Both morning Worship services will be maintained, with a shift in start time of both services to accommodate Sunday School (for all ages) and fellowship time. Children's Church will also be offered during both services.
We make this decision following our nation's efforts to return to normalcy but not with disregard to the continued threat COVID-19 is to us. Please know that procedures will be in place to ensure the safety and health of all.
New schedule as of Sunday, October 4th: 

ALL CANCELLED EXCEPT 11 AM SERVICE UFA DUE TO COVID



0830-0930 Worship 1 (Sanctuary and Fellowship Hall, Masks Required, plus online live-stream)
0930-1000 Break / Fellowship
1000-1045 Sunday School
1045-1100 Break
1100-1200 Worship 2 (Sanctuary & Fellowship Hall, Mask Required until seated, plus online live-stream)
We thank the Lord for His faithfulness to us and for His hand of protection. Thank you for your support, encouragement and love for each other during these challenging times. Special thanks to Jeannie Forlaw for her work in her new role as Children's Ministry Director and for the coordination of both the Children's Education and Worship Committees in putting together our resumption plan.
May we continue to labor together in love for the sake of the gospel and God's kingdom,
The Session
---
COVID PROTOCOLS:  In an effort to anticipate the needs as to the activities of the church in these times of uncertainty regarding COVID and the weather, there will be some changes upcoming in Worship location and virus protocols.  We have cooler weather approaching that will necessitate moving the Parking Lot Worship Service indoors, and we have some additional information for sanitation procedures for Worship Services, Sunday Schools, Nursery, and Children's Church.  The Parking Lot Worship Service will move indoors to the Sanctuary and Fellowship Hall starting on Sunday, October 25th.  This service will utilize strict COVID protocols to protect those with high concerns respecting the virus.  Masks and social distancing will be required at all times for this 8:30 worship.  See below for additional requirements and procedures. The updated schedule as of Sunday, October 4th is, as follows:
8:30-9:30            Worship One (Sanctuary & Fellowship Hall – Masks Required, also Live-streamed)
Nursery Provided
9:30-10:00          Gathering Grounds: Break/Fellowship
10:00-10:45       Sunday School (Adult and Children)
10:45-11:00       Break
11:00-12:00       Worship Two (Sanctuary & Fellowship Hall, plus live-stream, Mask Required until seated)
Children's Church (Large Classroom)
  Nursery Provided
COVID Protocols for Worship One (8:30-9:30):
–Masks are mandatory at all times including while singing.  This applies to the Sanctuary and the Fellowship Hall.  Pastor Tom will not wear a mask while preaching at the pulpit.
–Social distancing will be maintained at all times.
–A sanitizing station with masks will be provided at the lower entrance, at the front door entrance, and the entrance into the Fellowship Hall.  There will also be spray sanitizer and hand sanitizer available at these locations.
–Ushers will seat people as they arrive and direct as they exit.  The Sanctuary aisles will have directional arrows for one-way traffic.  Worshipers will be seated from the front of the church to the back and will exit the church from the back to the front.
-Anyone that does not have a mask will be given one.
–At the conclusion of this service the pews and cushions will be sprayed with sanitizer.  The Fellowship Hall will also be sanitized.
-The CDC recommends masks for children above the age of two years.
COVID Protocols for Break/Fellowship (9:30-10:00):
–Masks are optional and social distance is recommended.  For those that are wearing a mask, know that they are wearing it for a reason, and give them extra respect in regards to distance protocols.
COVID Protocols for Adult Sunday School (10:00-10:45):
-The adult SS will meet in the Fellowship Hall.
-Masks are optional.  Social distancing for seating is mandatory.
-Immediately following SS the tables and chairs will be sanitized.
COVID Protocols for Children's Sunday School and Children's Church:
-Masks are optional.
-Children's masks and hand sanitizers will be available and use encouraged.
-Each child will have their own labeled supply box containing crayons, etc., that will be sanitized after each use.
-Tables and chairs will be cleaned between uses.
COVID Protocols for the Nursery:
-Nursery toys and surfaces will be sanitized with antibacterial wipes and spray and allowed to dry between services.
-At the end of the second service toys will be immersed in food-grade sanitizer and surfaces wiped and sprayed.
 COVID Protocols for Worship Two (11:00-12:00)
-Masks are required until seated.
-Social distancing is required for seating
-Give respect to those choosing to wear a mask.
-Ushers will not be required for seating or exit.
We pray for an end to this virus, but until then, we must make the best of a difficult situation.  We understand that all these different rules may be hard to keep up with, but we endeavor to provide as many options as possible so that most can attend a Worship Service.  The safety of the congregation is paramount, and the ability to have a choice on the level of protocols is necessary.  Those at the upper end of risk from this virus are encouraged to utilize the live stream option in the safety of your homes.  If you or your child have flu-like symptoms or a fever, please stay home.
We thank you for your prayers, for the willingness you have shown to be diligent in worship, and for your support of FPCVR during this unprecedented occasion.
Prayerfully, The Session
---
Westminster Confession of Faith in Modern English

Chapter 11 – Justification
1. Those whom God effectually calls he also freely justifies. He does not pour righteousness into them but
pardons their sins and looks on them and accepts them as if they were righteous—not because of anything
worked in them or done by them, but for Christ's sake alone. He does not consider their faith itself, the act of
believing, as their righteousness or any other obedient response to the gospel on their part. Rather, he imputes to
them the obedience and judicial satisfaction earned by Christ. For their part, they receive and rest on Christ and
his righteousness by faith (and this faith is not their own but is itself a gift of God).
2. Faith, thus receiving and resting on Christ and his righteousness, is the only means of justification. In the
person justified, however, it is always accompanied by all the other saving graces and is not a dead faith, but
works by love.
3. By his obedience and death Christ completely discharged the debt of all those who are so justified, and he
made the correct, real, and full satisfaction to his Father's justice on their behalf. Since Christ was voluntarily
given by the Father for them, and since his obedience and satisfaction were accepted in their place and not for
anything in them, their justification is the result only of his free grace—so that both the perfect justice and the
rich grace of God might be glorified in the justification of sinners.
6. The justification of believers under the Old Testament was in all these respects identical with the justification
of believers under the New Testament.
Shorter Catechism Q&A 33
Q: What is justification?
A: Justification is an act of God's free grace, wherein he pardoneth all our sins, and accepteth us as righteous in
his sight, only for the righteousness of Christ imputed to us, and received by faith alone.