From the Shorter Catechism:
Q. 1. What is the chief end of man?
A. Man's chief end is to glorify God, and to enjoy him forever.
WORSHIP SERVICE TIMES AND LOCATIONS
After almost six months of suspending in-person Sunday morning activities with the exception of Worship, we were excited to announce the resumption of both infant and toddler nurseries beginning September 20th (both services), and the resumption of all Sunday morning activities beginning October 4th. Only the Worship 2 service will be maintained until further advised, with a shift in start time of both services to accommodate Sunday School (for all ages) and fellowship time. Children's Church will also be offered during the 11 AM service.
COVID restrictions are cancelled as of May 30th, 2021, however please respect physical distancing from anyone wearing a mask. If someone is wearing a mask, they either would like protection by masking and physical distancing, or they may be protecting others. Either way, please respect the person by respecting mask.
Sunday Schedule:
0830-0930 Worship 1

CANCELLED UFA




0930-1000 Break / Fellowship

CANCELLED UFA



1000-1045 Sunday School
1045-1100 Break
1100-1200 Worship 2 (Sanctuary, Fellowship Hall, and Live-Stream)
We thank the Lord for His faithfulness to us and for His hand of protection. Thank you for your support, encouragement and love for each other during these challenging times. Special thanks to Jeannie Forlaw for her work in her new role as Children's Ministry Director and for the coordination of both the Children's Education and Worship Committees in putting together our resumption plan.
May we continue to labor together in love for the sake of the gospel and God's kingdom,
The Session
---
CONSIDERATIONS
Please respect physical distancing from anyone wearing a mask. If someone is wearing a mask, they either would like protection by masking and physical distancing, or they may be protecting you and others. Either way, please respect the person by respecting mask.
---
COVID PROTOCOLS CANCELLED
Prayerfully, The Session
---
I. The liberty which Christ hath purchased for believers under the Gospel consists in their freedom from the guilt of sin, and condemning wrath of God, the curse of the moral law;(a) and, in their being delivered from this present evil world, bondage to Satan, and dominion of sin;(b) from the evil of afflictions, the sting of death, the victory of the grace, and everlasting damnation;(c) as also, in their free access to God,(d) and their yielding obedience unto Him, not out of slavish fear, but a child-like love and willing mind.(e) All which were common also to believers under the law.(f) But, under the new testament, the liberty of Christians is further enlarged, in their freedom from the yoke of the ceremonial law, to which the Jewish Church was subjected;(g) and in greater boldness of access to the throne of grace,(h) and in fuller communications of the free Spirit of God, than believers under the law did ordinarily partake of.(i)
(a) Tit. 2:14; I Thess. 1:10; Gal. 3:13.
(b) Gal. 1:4; Col. 1:13; Acts 26:18; Rom. 6:14.
(c) Rom. 8:28; Ps. 119:71; I Cor. 15:54, 55, 56, 57; Rom. 8:1.
(d) Rom. 5:1, 2.
(e) Rom. 8:14, 15; I John 4:18.
(f) Gal. 3:9, 14.
(g) Gal. 4:1, 2, 3, 6, 7; Gal. 5:1; Acts 15:10, 11.
(h) Heb. 4:14, 16; Heb. 10:19, 20, 21, 22.
(i) John 7:38, 39; II Cor. 3:13, 17, 18.
II. God alone is Lord of the conscience,(k) and hath left it free from the doctrines and commandments of men, which are in any thing contrary to His Word; or beside it, if matters of faith or worship.(l) So that, to believe such doctrines, or to obey such commands, out of conscience,(m) is to betray true liberty of conscience: and the requiring of an implicit faith, and an absolute and blind obedience is to destroy liberty of conscience, and reason also.(n)
(k) Jam. 4:12; Rom. 14:4.
(l) Acts 4:19; Acts 5:29; I Cor. 7:23; Matt. 23:8, 9, 10; II Cor. 1:24; Matt. 15:9.
(m) Col. 2:20, 22, 23; Gal. 1:10; Gal. 2:4, 5; Gal. 5:1.
(n) Rom. 10:17; Rom. 14:23; Isa. 8:20; Acts 17:11; John 4:22; Hos. 5:11; Rev. 13:12, 16, 17; Jer. 8:9.
III. (Omitted for space)
IV. And because the powers which God hath ordained, and the liberty which Christ hath purchased, are not intended by God to destroy, but mutually to uphold and preserve one another; they who, upon pretense of Christian liberty, shall oppose any lawful power, or the lawful exercise of it, whether it be civil or ecclesiastical, resist the ordinance of God.(p) And, for their publishing of such opinions, or maintaining of such practices, as are contrary to the light of nature, or to the known principles of Christianity, whether concerning faith, worship, or conversation; or, to the power of godliness; or, such erroneous opinions or practices, as either in their own nature, or in the manner of publishing or maintaining them, are destructive to the external peace and order which Christ hath established in the Church, they may lawfully be called to account, and proceeded against by the censures of the Church,(q) and by the power of the civil magistrate.(r)
(p) Matt. 12:25; I Pet. 2:13, 14, 16; Rom. 13:1 to 8; Heb. 13:17.
(q) Rom. 1:32 with I Cor. 5:1, 5, 11, 13; II John ver. 10, 11, and II Thess. 3:14, and I Tim. 6:3, 4, 5, and Tit. 1:10, 11, 13, and Tit. 3:10 with Matt. 18:15, 16, 17; I Tim. 1:19, 20; Rev. 2:2, 14, 15, 20; Rev. 3:9.
(r) Deut. 13:6 to 12; Rom. 13:3, 4 with II John ver. 10, 11; Ezra 7:23, 25, 26, 27, 28; Rev. 17:12, 16, 17; Neh. 13:15, 17, 21, 22, 25, 30; II Kings 23:5, 6, 9, 20, 21; II Chron. 34:33; II Chron. 15:12, 13, 16; Dan. 3:29; I Tim. 2:2; Isa. 49:23; Zech. 13:2, 3.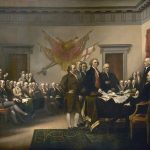 "We hold these truths to be self-evident, that all men are created equal, that they are endowed by their Creator with certain unalienable Rights, that among these are Life, Liberty and the pursuit of Happiness.–That to secure these rights, Governments are instituted among Men, deriving their just powers from the consent of the governed,…"
We are grateful for all the Constitutional rights that we enjoy, but we believe that our right to assemble and worship (among others) ultimately come from God, and that no just government should infringe on those God-given rights.