From the Shorter Catechism:
Q. 1. What is the chief end of man?
A. Man's chief end is to glorify God, and to enjoy him forever.
WORSHIP SERVICE TIMES AND LOCATIONS
After almost six months of suspending in-person Sunday morning activities with the exception of Worship, we are excited to announce the resumption of both infant and toddler nurseries beginning September 20th (both services), and the resumption of all Sunday morning activities beginning October 4th. Both morning Worship services will be maintained, with a shift in start time of both services to accommodate Sunday School (for all ages) and fellowship time. Children's Church will also be offered during the 11 AM service.
We make this decision following our nation's efforts to return to normalcy but not with disregard to the continued threat COVID-19 is to us. Please know that procedures are in place to ensure the safety and health of all (please see COVID PROTOCOLS below).
Sunday Schedule:
0830-0930 Worship 1 (Parking lot until 10-25 (Cancelled on 10-11 for rain), then inside due to weather)
0930-1000 Break / Fellowship
1000-1045 Sunday School
1045-1100 Break
1100-1200 Worship 2 (Sanctuary, Fellowship Hall, and Live-Stream)
We thank the Lord for His faithfulness to us and for His hand of protection. Thank you for your support, encouragement and love for each other during these challenging times. Special thanks to Jeannie Forlaw for her work in her new role as Children's Ministry Director and for the coordination of both the Children's Education and Worship Committees in putting together our resumption plan.
May we continue to labor together in love for the sake of the gospel and God's kingdom,
The Session
---
GENERAL WORSHIP SERVICE INFO


(More detailed COVID PROTOCOLS for each service are below.  Scroll down.)



Fellowship Hall: For low risk persons (under 60 with no underlying conditions), and children




There is a TV Monitor for a live stream view of the service from sanctuary
Family groups and families with children will be seated at tables. Chairs positioned for social distancing will be provided for individuals and couples. Individuals from the same household can sit together without distancing. These family groups, couples, and individuals are encouraged to follow social distancing guidelines at all times out of respect to others.
Hymnals & Bulletins will be placed on a table for individuals to take when they enter the Hall, however if you prefer not to handle these the bulletin is also online including all song lyrics and more.
Doors will be propped open as able to limit physical contact with the handles.
Temperature of the building will be regulated prior to the service to eliminate the fan noise.
An offering box will be placed at the entrance for individuals to place their offering, or you can give online.
Families with children are encouraged to enter the building shortly before the beginning of the service and go to a table and be seated in order to minimize the potential for children to disregard protocols. Bringing books or coloring books for children is encouraged. However, nursery is provided both services and Children's Church is provided during the 11 AM service.
When entering the Hall fill up the seating farthest from the entrance first. During the time of fellowship, please try to respectfully maintain physical distancing, especially for those who may be more vulnerable to the virus.

Sanctuary: For persons more at risk due to age or underlying medical condition




Family groups and couples may sit together, but otherwise social distancing will be maintained for seating. An Usher will be available to help with suitable seating locations and to assist in maintaining physical distancing when leaving. The fellowship hall is the overflow when the sanctuary is full.  You may use the online bulletin to avoid handling hymnals and other paper products.
As applicable 1a, 1c, 1d, 1f, and 1h, from above will apply for the sanctuary.

At Home: For persons who are more at risk, or want to practice the highest safety protocol by remaining at home




A live stream video will be available on the church website. A recorded version will also be available shortly after the conclusion of the service on the Online Worship, Video and Audio page. The online bulletin is the same as the traditional paper bulletin, except with enhancements.
AMENITIES
Restroom use will be limited to one person at a time, or parent with child
The playground is closed.
PRESCHOOL AND CHILDREN
Nursery is provided.
Children's Sunday School is provided.
Children's Church is provided during the 11 AM service.
Adult Sunday School re-starts on October 4th at 10 AM.
OTHER CONSIDERATIONS
People are asked to refrain from hugging or shaking hands.
Maintain 6 ft. physical distancing to the greatest extent possible.
You are encouraged to check your temperature before you leave your house. If you have a fever or are sick do not attend the worship service.
If you know have been exposed to someone with COVID, please stay at home until an appropriate self quarantine period has passed.
Hand sanitizer and masks will be provided. Individuals are encouraged to bring their own from home. The use of a mask is optional and up to individual preference.
The bulletin is provided online so that you do not have to handle common objects like the hymnal or paper bulletin.
If you have underlying health conditions that are known to raise the risk of harm if you contract COVID19, please consider joining us via the online Live-stream at 11 AM at home until your safety can be reasonably assured.
---
COVID PROTOCOLS:  In an effort to anticipate the needs as to the activities of the church in these times of uncertainty regarding COVID and the weather, there will be some changes upcoming in Worship location and virus protocols.  We have cooler weather approaching that will necessitate moving the Parking Lot Worship Service indoors, and we have some additional information for sanitation procedures for Worship Services, Sunday Schools, Nursery, and Children's Church.  The Parking Lot Worship Service will move indoors to the Sanctuary and Fellowship Hall starting on Sunday, October 25th.  This service will utilize strict COVID protocols to protect those with high concerns respecting the virus.  Masks and social distancing will be required at all times for this 8:30 worship.  See below for additional requirements and procedures. The updated schedule as of Sunday, October 4th is, as follows:
8:30-9:30            Worship One (Parking Lot 10/4, and 10/18; Sanctuary & Fellowship Hall 10/25, and thereafter)  CANCELLED due to rain on 10-11-20
Nursery Provided
9:30-10:00          Gathering Grounds: Break/Fellowship
10:00-10:45       Sunday School (Adult and Children)
10:45-11:00       Break
11:00-12:00       Worship Two (Sanctuary & Fellowship Hall)
Children's Church (Large Classroom)
 Nursery Provided
---
COVID Protocols for Worship One (8:30-9:30):
–Masks are mandatory at all times including while singing.  This applies to the Sanctuary and the Fellowship Hall.  Pastor Tom will not wear a mask while preaching at the pulpit.
–Social distancing will be maintained at all times.
–A sanitizing station with masks will be provided at the lower entrance, at the front door entrance, and the entrance into the Fellowship Hall.  There will also be spray sanitizer and hand sanitizer available at these locations.
–Ushers will seat people as they arrive and direct as they exit.  The Sanctuary aisles will have directional arrows for one-way traffic.  Worshipers will be seated from the front of the church to the back and will exit the church from the back to the front. If you need to exit early, please request the assistance of an usher.
-Anyone that does not have a mask will be given one.
–At the conclusion of this service the pews and cushions will be sprayed with sanitizer.  The Fellowship Hall will also be sanitized.
-The CDC recommends masks for children above the age of two years.
COVID Protocols for Break/Fellowship (9:30-10:00):
–Masks are optional and social distance is recommended.  For those that are wearing a mask, know that they are wearing it for a reason, and give them extra respect in regards to distance protocols.
COVID Protocols for Adult Sunday School (10:00-10:45):
-The adult SS will meet in the Fellowship Hall.
-Masks are optional.  Social distancing for seating is mandatory.
-Immediately following SS the tables and chairs will be sanitized.
COVID Protocols for Children's Sunday School and Children's Church:
-Masks are optional.
-Children's masks and hand sanitizers will be available and use encouraged.
-Each child will have their own labeled supply box containing crayons, etc., that will be sanitized after each use.
-Tables and chairs will be cleaned between uses.
COVID Protocols for the Nursery:
-Nursery toys and surfaces will be sanitized with antibacterial wipes and spray and allowed to dry between services.
-At the end of the second service toys will be immersed in food-grade sanitizer and surfaces wiped and sprayed.
 COVID Protocols for Worship Two (11:00-12:00)
-Masks are optional.
-Social distancing is required for seating
-Give respect to those choosing to wear a mask.
-Ushers will not be required for seating or exit for this service.
We pray for an end to this virus, but until then, we must make the best of a difficult situation.  We understand that all these different rules may be hard to keep up with, but we endeavor to provide as many options as possible so that most can attend a Worship Service.  The safety of the congregation is paramount, and the ability to have a choice on the level of protocols is necessary.  Those at the upper end of risk from this virus are encouraged to utilize the live stream option in the safety of your homes.  If you or your child have flu-like symptoms or a fever, please stay home.
We thank you for your prayers, for the willingness you have shown to be diligent in worship, and for your support of FPCVR during this unprecedented occasion.
Prayerfully, The Session
---
I. The liberty which Christ hath purchased for believers under the Gospel consists in their freedom from the guilt of sin, and condemning wrath of God, the curse of the moral law;(a) and, in their being delivered from this present evil world, bondage to Satan, and dominion of sin;(b) from the evil of afflictions, the sting of death, the victory of the grace, and everlasting damnation;(c) as also, in their free access to God,(d) and their yielding obedience unto Him, not out of slavish fear, but a child-like love and willing mind.(e) All which were common also to believers under the law.(f) But, under the new testament, the liberty of Christians is further enlarged, in their freedom from the yoke of the ceremonial law, to which the Jewish Church was subjected;(g) and in greater boldness of access to the throne of grace,(h) and in fuller communications of the free Spirit of God, than believers under the law did ordinarily partake of.(i)
(a) Tit. 2:14; I Thess. 1:10; Gal. 3:13.
(b) Gal. 1:4; Col. 1:13; Acts 26:18; Rom. 6:14.
(c) Rom. 8:28; Ps. 119:71; I Cor. 15:54, 55, 56, 57; Rom. 8:1.
(d) Rom. 5:1, 2.
(e) Rom. 8:14, 15; I John 4:18.
(f) Gal. 3:9, 14.
(g) Gal. 4:1, 2, 3, 6, 7; Gal. 5:1; Acts 15:10, 11.
(h) Heb. 4:14, 16; Heb. 10:19, 20, 21, 22.
(i) John 7:38, 39; II Cor. 3:13, 17, 18.
II. God alone is Lord of the conscience,(k) and hath left it free from the doctrines and commandments of men, which are in any thing contrary to His Word; or beside it, if matters of faith or worship.(l) So that, to believe such doctrines, or to obey such commands, out of conscience,(m) is to betray true liberty of conscience: and the requiring of an implicit faith, and an absolute and blind obedience is to destroy liberty of conscience, and reason also.(n)
(k) Jam. 4:12; Rom. 14:4.
(l) Acts 4:19; Acts 5:29; I Cor. 7:23; Matt. 23:8, 9, 10; II Cor. 1:24; Matt. 15:9.
(m) Col. 2:20, 22, 23; Gal. 1:10; Gal. 2:4, 5; Gal. 5:1.
(n) Rom. 10:17; Rom. 14:23; Isa. 8:20; Acts 17:11; John 4:22; Hos. 5:11; Rev. 13:12, 16, 17; Jer. 8:9.
III. (Omitted for space)
IV. And because the powers which God hath ordained, and the liberty which Christ hath purchased, are not intended by God to destroy, but mutually to uphold and preserve one another; they who, upon pretense of Christian liberty, shall oppose any lawful power, or the lawful exercise of it, whether it be civil or ecclesiastical, resist the ordinance of God.(p) And, for their publishing of such opinions, or maintaining of such practices, as are contrary to the light of nature, or to the known principles of Christianity, whether concerning faith, worship, or conversation; or, to the power of godliness; or, such erroneous opinions or practices, as either in their own nature, or in the manner of publishing or maintaining them, are destructive to the external peace and order which Christ hath established in the Church, they may lawfully be called to account, and proceeded against by the censures of the Church,(q) and by the power of the civil magistrate.(r)
(p) Matt. 12:25; I Pet. 2:13, 14, 16; Rom. 13:1 to 8; Heb. 13:17.
(q) Rom. 1:32 with I Cor. 5:1, 5, 11, 13; II John ver. 10, 11, and II Thess. 3:14, and I Tim. 6:3, 4, 5, and Tit. 1:10, 11, 13, and Tit. 3:10 with Matt. 18:15, 16, 17; I Tim. 1:19, 20; Rev. 2:2, 14, 15, 20; Rev. 3:9.
(r) Deut. 13:6 to 12; Rom. 13:3, 4 with II John ver. 10, 11; Ezra 7:23, 25, 26, 27, 28; Rev. 17:12, 16, 17; Neh. 13:15, 17, 21, 22, 25, 30; II Kings 23:5, 6, 9, 20, 21; II Chron. 34:33; II Chron. 15:12, 13, 16; Dan. 3:29; I Tim. 2:2; Isa. 49:23; Zech. 13:2, 3.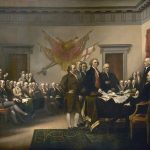 "We hold these truths to be self-evident, that all men are created equal, that they are endowed by their Creator with certain unalienable Rights, that among these are Life, Liberty and the pursuit of Happiness.–That to secure these rights, Governments are instituted among Men, deriving their just powers from the consent of the governed,…"
We are grateful for all the Constitutional rights that we enjoy, but we believe that our right to assemble and worship (among others) ultimately come from God, and that no just government should infringe on those God-given rights.