Due to Covid-19 many events have been cancelled. Always check here for updates.
2 Corinthians 10:4-5 For the weapons of our warfare are not of the flesh but have divine power to destroy strongholds. We destroy arguments and every lofty opinion raised against the knowledge of God, and take every thought captive to obey Christ.
For this reason, we ask ourselves of every Event: What is the Gospel Centered, Christ Glorifying, Biblical basis of this event?  The result is genuine Christian fellowship and fun.
---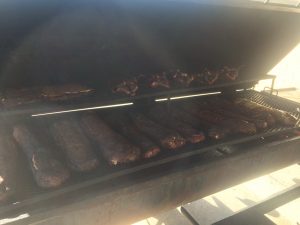 The Deacons use the Mercy Funds to help support persons in need within the church and within the surrounding community. This Mercy fund has allowed the Deacons to help many struggling families, single mothers, and the elderly with things like utility bills, gas, food, home repairs, and clothes. Please lighten your workload this Thanksgiving by getting the meat for your Thanksgiving meal from our deacons –or purchase one as a gift! Either way, you will be helping people in the community and saving effort and time in your Thanksgiving meal preparations. …and these smoked turkeys, hens, and pork loins are DEEEE-licious! 
Simply complete the online order form.  It will go directly to the deacons and they will take over from there.
Happy Thanksgiving!
---