WE ARE in the Fight for VR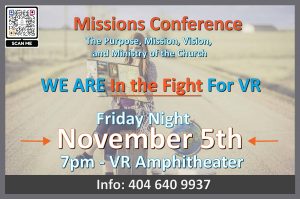 Venue :
Nov. 5: Villa Rica Amphitheater
2021 Missions Conference –

WE ARE

in the Fight for

VR!



Our Missions and Outreach theme is "Across the Street, Across the Sea".  Last Missions Conference we emphasized 'Across the Sea'. This year's Conference emphasized 'Across the Street' with the theme WE ARE in the Fight for VR.  2 Corinthians 10:3-5 (ESV) "For though we walk in the flesh, we are not waging war according to the flesh. 4 For the weapons of our warfare are not of the flesh but have divine power to destroy strongholds. 5 We destroy arguments and every lofty opinion raised against the knowledge of God, and take every thought captive to obey Christ,"  Spiritual warfare rages across the world and in America today.  Join us in the fight for our hometown for the praise of Jesus' glory and grace.

We were encouraged to have Dr. Harry Reeder III with us for the Friday evening keynote message and the Saturday morning brunch and message.  Dr. Reeder is Pastor of Briarwood Presbyterian Church (PCA) in Birmingham, author of The Leadership Dynamic and From Embers to Flame plus podcasts, radio broadcasts, and contributor to several books and publications . (Full bio);
We also enjoyed Ben Weber, Field Director of Campus Outreach, Birmingham (COB) to lead our Saturday Evening Dinner and Sunday Morning Bible Study and Sermon. Ben's ministry focuses on three areas: Leading all COB staff, Overseeing the vision of COB, and Evangelism and Discipleship among athletes and coaches at the University of West Georgia. We look forward to Ben's insight on evangelism, discipleship, and vision for ministry. (Full bio)
Missions is to be at the heart of every Christian, whether the longing is to reach people Across the Street, (in our own community) or Across the Sea (in another country). "Everyone is either a missionary, or needs one." (unknown)   In this year's conference, we will focus on the Purpose, Mission, Vision, and Ministry of the church in the context of the Great Commission given to us by Christ.  (Matthew 28: 16-20)  Verse 17 of that passage in ESV says, "And when they saw him they worshiped him, but some doubted."  The translation, The Message (MSG), puts it this way: "The moment they saw him they worshiped him. Some, though, held back, not sure about worship, about risking themselves totally."
What Jesus said: "…make disciples…"
The Eleven, plus some 500 people were likely there most of whom had seen the risen Christ.  Undoubtedly, Our Risen Lord knew the thoughts and intent of every heart and fully understood the doubts, fears, and reservations of 'some'.  However, that knowledge did not blunt his clear Commission: "…make disciples…".  Undeterred, in the face of the doubters, the fearful, and those with reservations Jesus delivered his clear instruction: (MSG) 19 "Go out and train everyone you meet, far and near, in this way of life, marking them by baptism in the threefold name: Father, Son, and Holy Spirit. 20 Then instruct them in the practice of all I have commanded you."  May we courageously abandon fear and engage in the personal fight to obey this one of Christ's last two instructions while on earth: 'make disciples'.
What Jesus did not say: …make disciples, unless you are personally doubtful and fearful… Nor did he say, …make disciples, unless making disciples would scare some of your friends or others in your church…, nor …make disciples, unless your church tradition and experience does not include sharing your life as I have shared my life with you… The Great Command of Jesus is to engage in the fight to make disciples the way he made disciples.  WE ARE in the Fight for VR.
Jesus told us how to do it:  Identify them with the Triune God and my covenant of grace and forgiveness (baptizing), and instruct them in all of my lifestyle practices that I demonstrated and commanded of you.  When doubts and fears enter our hearts, or we are wounded in the battle may we depend on his grace and Presence to stay in the fight.
Jesus encouraged them: Matthew 28:20 (MSG) "I'll be with you as you do this, day after day after day, right up to the end of the age."  What more could either the fearless or the fearful ask?  Jesus assures us he is with us daily as we engage in the fight to obey and put our lives to his task: "…make disciples…"
In this year's Conference: By the Grace of God and for his glory, we took a dive deep into the fullness of the Great Commission.  We learned more about how to engage in the battle personally to make First Presbyterian Church in Villa Rica a disciple-making church.  Our expectation is the powerful, daily presence of Our Lord Jesus with us as WE ARE in the Fight for VR.
The intent is to provide encouragement, resources, and opportunities for our congregation and the greater Christian community to recognize the ongoing spiritual battle Across the Street and Across the Sea for Villa Rica and beyond and to engage in the fight like never before. Please pray with us as we seek full understanding and engagement of heart in the fight for the praise of his glory.  The first step of disciple-making is evangelism.  We seek to encourage the Christian community to reach 'outsiders' Across the Street and Across the Sea and for every member to engage in disciple-making.  WE ARE in the Fight for VR!
WE ARE

in the Fight for

VR

! Conference Schedule:
Friday Evening, November 5th: Dinner (PLEASE RSVP BELOW) followed by the keynote address and call to engagement in the Great Commission by Dr. Harry Reeder III.

6:15 PM – Arrivals
6:30 PM – 7:00 PM, Dinner
7:00 PM – 8:00 PM, Keynote Conference Message, Dr. Harry Reeder III

Saturday, November 6th: Brunch and Dinner with the ministers is a less formal meeting hosted in the homes of two of our church families.  Each event will include food, fellowship, prayer, and a 20 to 30 minute message.  Members are encouraged to look for the signup sheet, or to download it. (PLEASE RSVP BELOW) to attend one or more of these events.  This is the perfect time to get to know each of these Ministers of the Gospel in a more personal, informal setting.
The Saturday Schedule is:

BRUNCH, with Dr. Harry Reeder III


9:30 Arrivals at the church gym (Directions)
9:45 Greetings with a hymn, The Blessing, and Brunch
10:15 AM, Dr. Reeder,

WE ARE

in the Fight for

VR – Vision in Focus.

DINNER, with Campus Outreach Field Director, Ben Weber


5:45 Arrivals at the Ashlock home (Directions)
6 PM Greetings with a Hymn, The Blessing, and Dinner
6:30 PM, Ben Weber's message:  Ministry in Practice.

Sunday, November 7th: Both Sunday Morning Bible Study and gathering for Worship will continue the theme of 

WE ARE

in the Fight for

VR

!.

10 AM – 10:45 AM, Across the Street: Mr. Weber will lead a discussion oriented Bible Study about developing a personal ministry to engage …

in the Fight for

VR

.
11 AM to Noon, Worship with Ben Weber delivering the sermon on 'The Ministry of Every Christian'.


Every Christian can engage in Missions through prayer, influencing others (evangelism and disciple-making), and other actions in addition to giving financially. May you be encouraged to pray, influence, take action, and get involved. Let God guide your steps.  A strong foundation of prayer is essential to successfully applying ourselves to the mission of the church: disciple-making.  Imagine what Villa Rica and the world would look like if every one of us gets engaged!  The conference presented practical ways to make a difference:
Make an Evangelism Prayer List of three to ten people who you will pray for salvation,
Have a Gospel oriented conversation with at least one person per week, and
Engage in disciple-making with at least one Christian.
May we prayerfully respond and fully realize WE ARE in the Fight for VR!
Start now and expect great results for God's Kingdom.