GRACE CHURCH, of Canton, Georgia

PASTOR ROBIE HEMBREE

BRIEF BIO
Pastor Robie received a B.A. Degree in Pastoral Studies from Northland International University in '93, and is completing an M.A. in Religion from Reformed Theological Seminary, Atlanta.  He has been the pastor at Grace Church for almost 20 years and is a Teaching Elder in the Northwest Georgia Presbytery of the Presbyterian Church of America.
Pastor Robie is a member of the Association of Certified Biblical Counselors and has been active in personal, marriage, and family counseling for over 20 years.  His pastoral and practical insight demonstrates the sufficiency of God's Word for life and godliness through knowing Christ and helping God's people live in the freedom and power of the Gospel of Grace.
G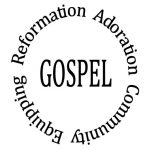 race Church, Canton's core values reflect the importance of the church to the advancement of the Kingdom of God.  Visit their website to learn more about the church and how to pray for the church.  CLICK HERE
SOME QUESTIONS AND ANSWERS WITH ROBIE….
(Coming Soon)